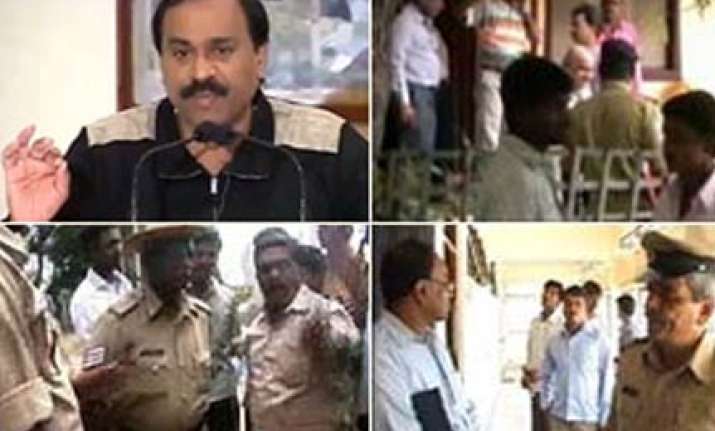 Bangalore/Bellary, Oct 26:  Income Tax officials today carried out for the second day simultaneous raids at the premises of seven ruling BJP MLAs and mining firms in Bellary district, including ministers and mining magnates G Janardhana Reddy and his brother G Karunakara Reddy.
Ten search teams, including three from Delhi and one from Chennai, assisted by the Indo-Tibetan Border Police raided the premises of Janardhana Reddy and Karunakara Reddy and their business associate B Sreeramulu in Hospet taluk and district headquarters, Bellary.
The raids continued in at least four mining firms in Hospet, the sources said, adding "the raids are likely to continue till the evening".
At least 60-55 premises, mainly in Bangalore, Bellary, Hospet and Sandur in the home district of Reddy brothers who have been accused by the opposition of trying to lure away their MLAs, came under the IT scanner yesterday.
The IT raids came against the backdrop of the political turmoil in the state which saw 16 MLAs withdrawing their support to the B S Yeddyurappa Government forcing it to face two floor tests in the 224-member Assembly. Four MLAs have deserted the opposition ranks by giving up their memberships.
The Congress and JD-S have accused the BJP of poaching on their MLAs to shore up its numbers in the House, but the ruling party has hit back at the opposition, charging it with trying all means to topple the state government.
Though the BJP Government has won the trust vote, a cloud of uncertainty still looms large with the Karnataka High Court reserving its verdict on the plea of 11 rebel BJP MLAs challenging their disqualification by the Speaker and pendency of petitions filed by five disqualified Independents. PTI