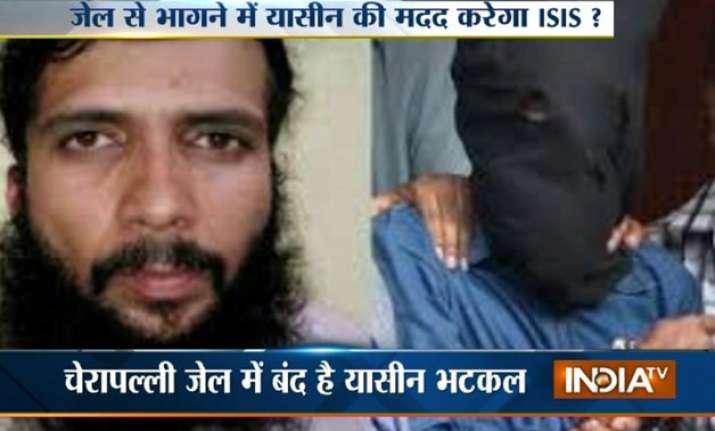 New Delhi: Jailed Indian Mujahideen terrorist Yasin Bhatkal, in an intercepted call, hinted to his wife that he may get help from Islamic State.
The master mind of Bangalore Stadium bomb blast (2010) and Pune bombing (2012) was heard telling his wife from jail that he is getting help from Damascus, Syria, a stronghold of terrorist group Islamic State.
In the intercepts, Bhatkal, said, "Damascus se log madad kar rahe hain. Mai jald hi riha ho jaoonga." ( People from Damscus are helping me. I will be free soon)
Bhatkal is the alleged founder leader of Indian Mujahideen (IM). He was listed on the NIA Most Wanted until his arrest on the India-Nepal border near Motihari, Bihar on 28 August 2013. He is said to have undertook arms and explosive training in Pakistan in 2006 to launch terror attacks in India. Currently he is lodged in Hyderabad jail.
The five-minute-long chat between Bhatkal and his wife Zahida in Delhi has prompted authorities to step up security arrangements at Hyderabad prison.
The authorities are worried about the role of IS in helping the jailed terrorist in India. It would indicate that the group is extending help to terrorist and terror outfits outside its base in Syria and Iraq, where it has captured several cities.
It is not only worrying for India but other countries as well.
Agencies suspect IS could help Bhatkal by enlisting the support of Ansar-ul-Tawhid Fi Bilad Al Hind (AuT), a breakaway group of IM. Bhatkal's conversation imply efforts by IS to repair relationship between IM and AuT.
Last year, AuT had uploaded three different videos with subtitles in Hindi, Tamil and Urdu with messages from various IS operatives including the sermon of its chief Abu Bakr Al Baghdadi in which he called for jihad against India among other countries.
Bhatkal reportedly made 10 calls to his wife and in all conversation, he expressed hope to be out soon. The agencies have also established that the IM commander spoke to some anti-social elements during his judicial custody.
Intelligence agencies have reportedly written to Hyderabad jail authorities asking them to step up security.
It is worth a mention that Bhatkal left his wife a few days after marrying her in 2008, but remained in touch with her. It was only because of his weakness for his wife that led to his arrest in the first place. He was tracked after he had delivered Rs 1 lakh to his wife and a cell phone in 2013. Intelligence agencies tracked the money, which came through hawala and intercepted his conversation with wife, helping them pinpoint his location.