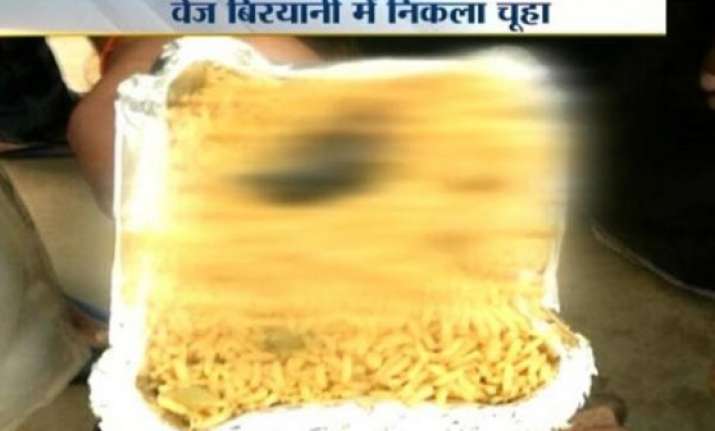 New Delhi: The Indian Railway Catering and Tourism Corporation (IRCTC) today clarified that the vegetable biryani, with a dead rat found in it, was not served by the company to four passengers on board Thirukkural Express at Vijaywada.
The shocking complaint was filed on December 20 by a group of pilgrims who were returning from Sabarimala, a Hindu pilgrimage centre in Kerala,  by Thirukkural special train.
The 'rat biryani' was served from the pantry just before the train was to reach Nellore station.
READ MORE: Shocking! Indian Railways serves 'rat biryani' to pilgrims
The passenger Venkateswara, of Vijayawada,  and three of his friends were served 'rat biryani' after they placed order for vegetarian biryani.
The passengers alleged that when they opened the packets of vegetarian biryani, they were shocked to find 'fried' rats as an ingredient of the biryani in their packed plates.
Pilgrims going to the famous Ayappa Swamy temple in Sabarimala, Kerala, undergo 40 days of stringent diet restrictions and avoid non-vegetarian food. There were nearly 300 pilgrims on board the Thirukkural Express.
A mail sent to India TV by Sandip Dutta, Manager (Public Relations), IRCTC stated that the train Thirukkural Express was not served by the IRCTC, and the catering service on the train was handed over to the Southern Railway in September this year.
The IRCTC said, it has divested off onboard catering services, road-side vending, food stalls at railway stations, etc, and has handed them over to the respective Zonal Railways to run them.
"IRCTC has, therefore, been left with managing a very few (35 odd) trains.. a few Rajdhanis, Shatabdis, Durontos and of late a few premium trains", the statement said.
"It may be mentioned that prior to the Catering Policy 2010, IRCTC used to do onboard catering over Indian Railways' network in more than 350 trains, whereas presently it has about only 10% of the earlier volume of job", Dutta said.