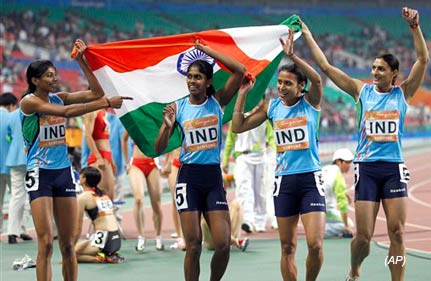 Guangzhou, Nov 26: Indian women's 4X400m relay quartet lived up to expectations by defending the gold medal won in 2006 with AC Ashwini anchoring the team to glory in the Asian Games here today.
Running in the third leg, Ashwini, who earlier clinched the yellow metal in the 400m hurdles, gave the Indian team a huge lead over second-placed Kazakhstan for Mandeep Kaur to maintain it till the finishing line in 3min 29.02sec.
In the first leg, India's Manjeet Kaur was running second before Sini Jose gave a slender lead for Ashwini to take over.
Kazakhstan took the silver in 3:30.03 while China claimed the bronze in 3:30.89.
With the gold medal here, the Indian quartet have won their second gold in two months in a multi-sporting event, having won the title in the Commonwealth Games in New Delhi, though today's effort was well below 3:27.77 in the CWG. AP