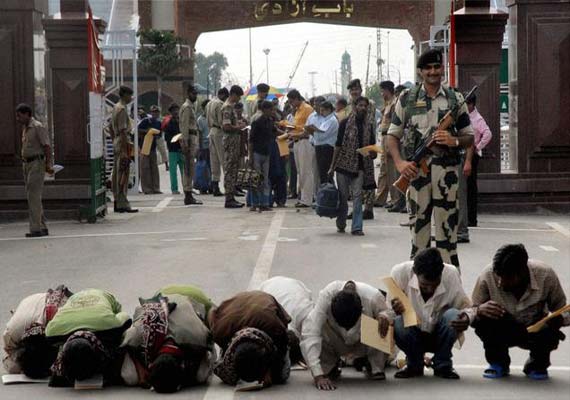 Mumbai:  Pakistan will release 338 Indian prisoners, including eight juveniles, who are expected to cross into India from the Wagah-Attari border Saturday, an activist said here.
India-Pakistan peace activist Jatin Desai, citing an official communication received from Rizwanullah Jamil, representative of the Legal Aid Office (LAO), Pakistan, Wednesday said the Indian prisoners shall be set free from two different Karachi jails Friday and cross the Wagah Border in Lahore and Attari Border in Amritsar in eight specially requisitioned buses.
The development is in compliance with the Pakistan government's decision to release the 330 Indian fishermen detained in District Prison Malir of Karachi, and eight juveniles held at Youthful Offenders Industrial School in Karachi.
"This is a goodwill gesture announced by the Pakistani foreign minister during the Indian foreign minister's visit on the occasion of the process of normalisation of bilateral relations," Jamil  aid.
The LAO has organised the air-conditioned buses on behalf of the government of Sindh, besides providing all meals to the Indian prisoners till they reach the Wagah Border.
They will be escorted by LAO and Protocol Officers of the Special Branch of Police during the journey.
According to latest Jail Population Statements, a total of 427 Indian fishermen, three undertrials, one convict and eight minors from India are confined in the District Prison Malir and Youthful Offenders Industrial School, Karachi