Follow us on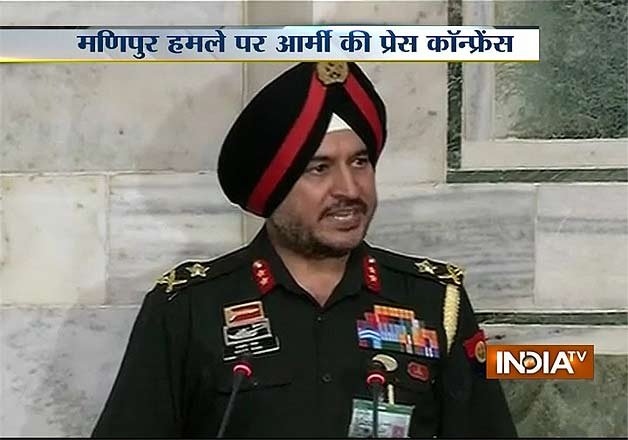 New Delhi:  Hitting back at rebels who killed 18 soldiers in Manipur, special forces of the army today carried out a surgical strike inside Myanmar, slaying about 15 insurgents of the groups believed to be responsible for the deadly ambush.
The strike was carried out by commandos on specific intelligence input in coordination with Myanmarese authorities, with the Army saying that "significant casualties" had been inflicted on two militant groups believed to be NSCN(K) and KYKL.
Sources said about 15 insurgents were killed in the assault with no casualties among the soldiers.  Noting that the army had been on "high alert" after Manipur attack, Major General Ranbir Singh, Additional Director General Military Operations, said that in the course of last few days, "credible and specific intelligence" was received about further attacks that were being planned within Indian territory.
"These attacks were to be carried out by some of the groups involved in earlier attacks on our security personnel and their allies," he told reporters here while briefing on the operation without taking any questions.
"In view of the immenent threat, an immediate response was necessary. Based on intelligence, we conducted operations to counter these planned assaults," Maj Gen Singh added.
He asserted that "any threat to our security, safety and national integrity will meet a firm response" while ensuring peace and tranquility along the border and in the border states.
While he said the operation was carried out "along the Indo-Myanmar border at two locations, along the Nagaland and Manipur borders", sources said the strike was carried out inside Myanmar with the coordination of local authorities.  The Indian assault team returned safely, the sources said.
This is the first time that the Indian army carried out a cross-border commando action, which marks the pro-active approach against terror, sources said, adding the strike was drafted in the wake of a series of attacks by insurgents in various states of the North East.
The sources said the operation was guided by "specific and precise intelligence" and there was a heavy exchange of fire between the commandos and insurgents.
"Significant casualties have been inflicted on them (insurgents). As a consequence, threats to our civilian population and security forces were averted," Maj Gen Singh said.
The sources underlined that it was a retaliatory action after the deadly ambush in Chandel in Manipur on June 4 when 18 soldiers were killed.
It was noticed that insurgents would sneak in from across the border to carry out their strikes and then return there, they said while justifying the cross-border assault.  
"We are in communication with the Myanmar authorities on this matter. There is a history to close cooperation between our two militaries. We look forward to working with them to combat such terrorism," Maj Gen Singh said.  
NSCN(K), which reneged from a ceasefire in March, has been involved in a series of attacks in tandem with some other militant groups under the banner of the so-called 'United Liberation Front of South East Asia'.