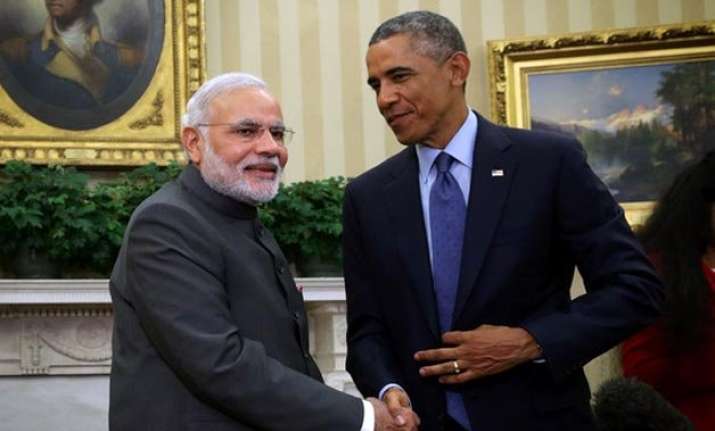 New Delhi: A new 10-year defence pact between India and the US will top the agenda when President Barack Obama arrives in India as the chief guest of the Republic Day parade.
The new defence framework pact  is likely be signed during  President Barack Obama's visit to India.
Frank Kendall, US undersecretary for acquisition, technology and logistics will be in Delhi on January 22 just to look into the nitty-gritty of the proposed framework.  
The new framework will replace the existing agreement of June 2005 which was signed by the then defence minister Pranab Mukherjee and his counterpart Donald Rumsfeld.
The new defence framework will outline a series of exchanges between Indian and US officials, including regular meetings between service and non-service defence personnel, the updated 'Defence Trade and Technological Initiative,' upgraded military and naval exercises, as well as 'knowledge partnerships' between the National Defence universities in both countries.
U.S. and Indian officials are also working on  the announcement of one or two projects under the 'Defence Trade and Technological Initiative' (DTTI), which they hope to pitch as a part of the government's "make in India" initiative.
Under  DTTI ,US and India will  co-produce aircraft components and helicopter parts which range from the next-generation of Javelin anti-tank guided missiles (ATGMs) and MH-60 Romeo multi-role helicopters to long-endurance UAVs (unmanned aerial vehicles) and 127mm warship guns.
Since Modi government has already chosen an initial off-the-shelf purchase of Israeli Spike ATGMs, with 321 launchers and 8,356 missiles, for Rs 3,200 crore, they will initially choose simple projects from DTTI and start the process.
South Block is keeping an eye on technologies being offered by American armament companies who already have Indian partners and will bring in FDI.
Indo-U.S. 'Malabar' naval exercises which is restricted to bilateral level after China protested againts its 2007 edition in the Bay of Bengal is expected to be get expand with 'quadrilateral dialogue' that includes Australian, Japanese and Singaporean navies as well.
At the 18th edition of Malabar, Japan was included third time after 2007 and 2006. Australia is also showing interest to join Malabar on a regular basis.