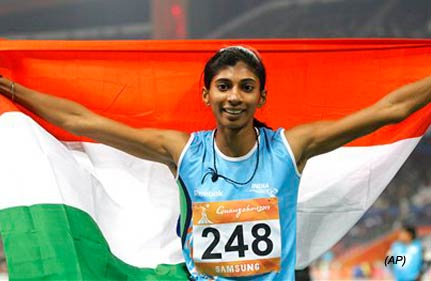 Guangzhou, Nov 27: A month after producing their best-ever show in the Commonwealth Games, India underlined its rising sporting prowess by bagging the biggest medal haul in the Asian Games which concluded here today.
India, who finished sixth yesterday with 14 gold, 17 silver and 33 bronze for a record 64-medal haul, maintained that position after the end of today's events.
China ended on top with 199 gold, 119 silver and 98 bronze (total 416), followed by South Korea (76-65-91) and Japan (48-74-94) at second and third respectively.
India's best medal haul in the Asian Games till date was recorded in the 1982 Games in New Delhi when they had won 13 gold, 19 silver and 25 bronze for an overall tally of 57. India had finished 10th in the last edition of the Games in Doha with a tally of 10-17-26.
The sixth spot on the medal rostrum by India is the best it has attained since 1986 at Seoul, where the country ended fifth with a more modest haul of 5-9-23.
But a quarter century ago there was no Kazakhstan, Uzbekistan and the rest of the former Soviet bloc to make the competition as stiff as it was here. In fact, Kazakhstan finished higher than India at fifth in Guangzhou.
The 14 gold India won in Guangzhou is the second best after the inaugural edition in 1951 in New Delhi where the country finished second with 15 gold, 16 silver and 20 bronze for a total medal haul of 51. The 1951 Games was though contested by just 11 countries whereas the 16th edition here had seen 45 nations competing.
India had also been improving in their medal haul in the last five Asian Games, having won 22 medals (4-3-15) in 1994 Hiroshima, 35 (7-11-17) in 1998 Bangkok, 35 (10-12-13) in 2002 Busan and 53 (10-17-26) fours years ago in Doha.
The record medal tally of 64 in the Asian Games came a month after India won 101 medals (39-26-36) to finish second ahead of the likes of England and Canada in the Commonwealth Games in New Delhi.
Out of the 14 gold India won in Guangzhou, the highest number of five came from athletics and two each were won in boxing, kabbadi and tennis and one each from shooting, cue sports and rowing.
Just like in many earlier editions of the Asian Games, athletics contributed the lions share in Indian's number of gold medals in this addition also. PTI