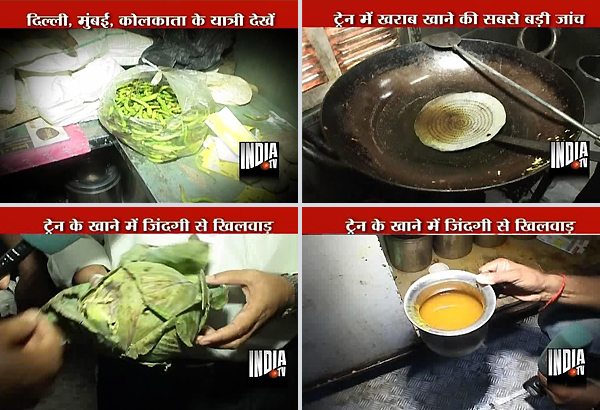 New Delhi/Mumbai/Lucknow/Hyderabad, Aug 21: A nationwide investigation by a team of India TV reporters alongwith nutrition experts revealed the pathetic state of affairs in India's leading trains, where food is being served from pantry cars in filthy conditions.
A team of 10 India TV reporters travelled across the country for 25 days to carry out checks inside pantry cars of long distance trains, and filmed the filthy conditions in which railway passengers food were being prepared.
The India TV reality check covered nearly 20 long distance trains.
India TV reporters traveled on 12311 up and 12312 down Howrah-Delhi-Chandigarh Howrah Mail. The train passes through 40 stations, but the food that is being served from the pantry car is being prepared in absolutely filthy conditions.
The team found cockraoaches inside the pantry, an open drum containing lassi with flies hovering around, curd kept in polythene bags outside the fridge, and rotten cabbages, carrots, onions and chillies.  All these were being prepared with dirty, stinking water.
The IRCTC (Indian Railway Catering and Tourism Corporation) had laid  hygiene and health safety guidelines for preparing the food, but all these were given for a toss.
On 12404 Magadh Express, reporters found the pantry cooks using hot cooking over and over again, while boiled potatoes were kept in a filthy corner in the open.
Both the fridge and the deep freezer were out of order inside the pantry car, and in hot summer, the vegetables were rotten and stinking.
On the Porbandar-Sikanderabad Express, cutlets were being prepared by pantry staff on the wooden berths on which they sleep themselves. They were also cutting vegetables on these births. Raita being served with biryani was being made with dirty water, packed and then served to railway passengers.
The big mixer used for making dough for idli and dosa dal was in a sorry state. It was dirty with flies around. Chholey being served with rice, were being kept near dirty water in a dark corner. Potatoes prepared for dosas were being prepared in a filthy manner, while tomatoes lay around stinking to be used in sambar and vegetable curry.  Bread used with cutlets were lying rotten outside the fridge.
On the Awadh-Assam Express, there was stinking water lying around inside the pantry car.  Atta dough cut out for making rotis were lying uncovered and locally manufactured non-branded sauce was being served.
Similar pathetic and filthy conditions were witnessed by India TV reporters on the New Delhi-Puri Neelachal Express, with an employee of the contractor trying to prevent the cameraman from recording the filthy state of affairs.
On the Mumbai-Delhi Kurla express, the manager of the pantry car almost came to blows with the India TV reporters, when they filmed insects crawling inside the pantry car.