Follow us on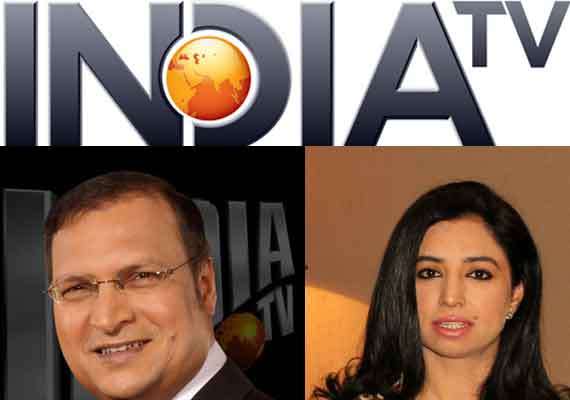 New Delhi: India TV has unveiled its new-look logo and has stregnthened its newsroom team to gear up for the forthcoming Lok Sabha elections.
The news channel  has already announced some key appointments in its senior content team.
The new logo is aimed at positioning India TV as a contemporary network with an international look, and signifying a large company in terms of scale and stature.
The colour palette of the previous logo has been maintained in the new logo.
Along with the new appointments, Rajat Sharma, Editor-in-Chief, India TV  will, from Monday, resume a daily news show  AAJ KI BAAT, RAJAT SHARMA KE SAATH after a gap of over four years.
More changes in terms of look and feel of the channel as well as the content are in the pipeline, which will be announced soon.
In order to further strengthen its team for 'Election  news and programming', India TV has roped in several senior TV journalists.
Amitabh, after spending 18 years with Aaj Tak, joins as Senior Executive Editor. Output team is also joined by Pranay Yadav as Executive Editor who returns to India TV after a stint in TV 9 and Shivendra  Kumar as Deputy Executive Editor who was with ABP News. 
News gathering team of India TV is now led by Executive Editor Rahul Choudhry who also comes from Aaj Tak. The team is supported by Political Editor, Sukesh Ranjan who was with IBN 7.
Choudhry is also joined by his Aaj Tak colleagues Shamsher Singh as Editor Current Affairs, Prateek Trivedi as Associate Editor and Sundeep Sonwalker as Deputy Editor. 
Over the last couple of years, from being skewed slightly towards being popular, the content style of the leading channel has changed to in-depth coverage and deep-delving analysis. 
The same will be taken further with  Editor-in-chief & genre's leading & most adored anchor, Rajat Sharma himself taking to the Prime time with the flagship show, "Aaj Ki Baat - Rajat Sharma Ke Saath".
On the new look editorial team, India TV editor-in-chief Rajat Sharma said, "India TV newsroom is fully charged to capture the excitement of upcoming General elections. Extensive plans have been made to report, analyse and present the battle for the next Lok Sabha to our viewers." 
"Our viewers can rest assured of most accurate and responsible news reporting, which will further cement our leadership position in Hindi News genre." said Editorial Director Qamar Waheed Naqvi. 
Commenting on the new appointments Ritu Dhawan, MD & CEO, India TV said, "When the channel announced the appointment of QW Naqvi as the Editorial Director in October, it was always on cards that the content team will be further strengthened to gear up for the biggest event in news genre, the General Elections slated for 2014, to begin with." 
"All such efforts are a testimony to our commitment to broadcast a perfect mix of news, views & analysis to our ever-evolving audiences and we are sure that we will be able to create and maintain a perfect content mix." She added while hinting at more defining announcements, beyond appointments, to follow soon.