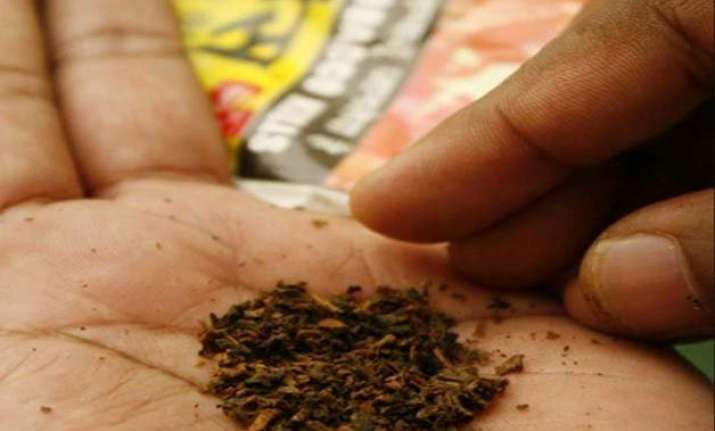 Kolkata: India needs to draft a comprehensive tax policy for all tobacco products if it wants to cut down the easy access to the plethora of low-cost and locally produced tobacco products available in the country, World Health Organisation (WHO) has suggested.
Describing the availability and affordability of low-cost and locally-produced tobacco products as a "formidable challenge in India", WHO noted that "taxes are low for the forms of tobacco that are most commonly used".
"There is a need to develop a comprehensive tax policy for all tobacco products so that they are taxed at similar rates taking into account both price elasticity and income elasticity of demand, as well as inflation and changes in household income," the UN agency said.
 
According to WHO, nearly a million deaths occur every year in India due to tobacco-related diseases with the total economic costs attributable to tobacco use (in 2011 for people aged 35-69 years) amounting to a staggering Rs 1,04,500 crore -- impacting not only the human but also the fiscal health of the country.
India is a leading tobacco-producing country and has the provision of economically viable alternative vocations for those involved in tobacco cultivation and bidi production, WHO further stated.
"Early ratification of the 'Protocol to Eliminate Illicit Trade in Tobacco Products' will provide the country with a strong tool to tackle illicit trade in tobacco products," it said.
Besides, to protect health policies from commercial and other vested interests of tobacco industry, India urgently needs to implement Article 5.3 of the WHO Framework Convention on Tobacco Control (FCTC), including Code of Conduct.
It should be mentioned that the Ministry of Health and Family Welfare (MoHFW) constituted an Expert Committee to review and suggest amendments to the Cigarettes and Other Tobacco Products (Prohibition of Advertisement and Regulation of Trade and Commerce, Production, Supply and Distribution) Act (COTPA), 2003, to further its commitment to tobacco control. Based on the recommendations of the Committee, the draft COTPA Amendment Bill, 2015, has been placed in the public domain to elicit comments from stakeholders and the general public.
The draft Bill proposes to disallow the provisions for designated smoking areas in restaurants and pubs/bars, point-of-sale advertisements and loose sale of tobacco products, among others.
In line with the provisions of the WHO FCTC and domestic law, the Centre has introduced strong tobacco control measures, including prohibiting smoking in public places and banning sale of tobacco products by or to persons under the age of 18 years (minors).
It has also banned all direct and indirect forms of tobacco advertisement, promotion and sponsorship and has made pictorial health warnings mandatory on packages of tobacco products.
In this context, WHO's Country Representative to India, Dr Nata Menabde, said, "The Committee of Secretaries for Tobacco Control formed under the Chairmanship of the Cabinet Secretary is commendable. It provides an excellent platform for accelerating FCTC implementation in the country.
"Full implementation of the WHO FCTC would support global and national commitments to achieving a 25 per cent reduction in premature deaths from non-communicable diseases by 2025, including a 30 per cent reduction in the prevalence of tobacco use in persons aged 15 years and older."
The WHO FCTC, an international public health treaty, was negotiated under the auspices of the Geneva-based agency in response to the globalisation of the tobacco epidemic. It is one of United Nation's most rapidly ratified treaties and currently over 180 countries are party to the convention.
India played a leading role in the development of the treaty and ratified the same on February 5, 2004.
Further, all states in India, under the Food Safety and Standards Regulation, 2011, have banned the sale, production and distribution of gutka and other forms of smokeless tobacco.
To monitor the prevalence of tobacco use and track key tobacco control indicators, the Centre also took part in the Global Adult Tobacco Survey (GATS, 2009-10) along with the Global Youth Tobacco Survey (GYTS, 2009).
These surveys revealed that almost 275 million Indian adults, nearly 35 per cent of the adult population and 14.6 per cent of youth (aged 13-15 years), consume some form of tobacco.
The Centre, this January, has moved to amend the anti-smoking law and proposed radical changes, including a ban on sale of loose cigarettes and raising from 18 to 21 the minimum age for buying tobacco products.
It has also proposed raising the fine to Rs 1,000 from Rs 200 for smoking in public places and has recommended the removal of designated smoking zones in hotels and restaurants.
Incidentally, in 2007-08, the Centre had launched a dedicated National Tobacco Control Programme (NTCP) with the objective of, among others, creating awareness about the harmful effects of tobacco consumption.