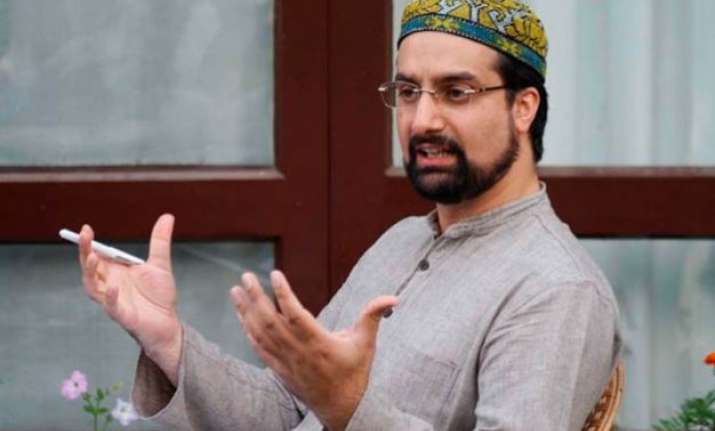 New Delhi: Hurriyat Conference has held India responsible for stalling the NSA-level talks with Pakistan, saying the sidelining of Kashmir issue will not be acceptable at any cost.
"Unfortunately, India put unnecessary conditions for the talks with an intention to stall them in the tracks. In Ufa, it was decided that all issues will be discussed. What was the big deal if Kashmir was also discussed," Mirwaiz Umar Farooq, the chairman of moderate faction of Hurriyat Conference was quoted as saying to DNA.
Also Read: Pakistan calls off NSA level talks with India
Mirwaiz also accused Indian government of not  being serious about dialogue and said New Delhi wanted to put Kashmir off the table which is not acceptable.
"Kashmir is a core issue and we are the primary party and stakeholders to it. New Delhi and Islamabad may have other issues as well. But when it comes to Kashmir, there can be no movement forward unless its primary parties are involved," he told DNA.
Moderate Hurriyat chief, who was invited by Pak High commission to meet Aziz, said New Delhi has gone back from the stand taken by Atal Bihari Vajpayee's NDA government.
"During Vajpayee era it was decided that Hurriyat would talk to both New Delhi and Islamabad. But the new NDA government has revoked it which is very unfortunate," he said.
The moderate Hurriyat leader has earlier blamed India of double standards on the issue of Jammu and Kashmir saying that it has placed conditions for taking the dialogue forward with Pakistan "
Pakistan on Saturday called off NSA level talks with India. The talks hit the deadlock after Pakistan's National Security Adviser Sartaz Aziz decided to meet Kashmiri separatist leaders alongside the official meet with Indian's NSA Ajit Doval.
Also Read: Hurriyat's Bilal Lone, Shabir Shah and 2 others detained
Earlier on Saturday four separatist leaders including Bilal Lone and Shabir Shah were detained at Delhi airport to prevent them from meeting Pakistan's NSA Sartaj Aziz in the event of his arrival here.
Shah along with his aide Mohammad Abdullah Tari and Zamir Ahmad were supposed to join the reception of Aziz in Pakistani high commission office on Sunday evening.