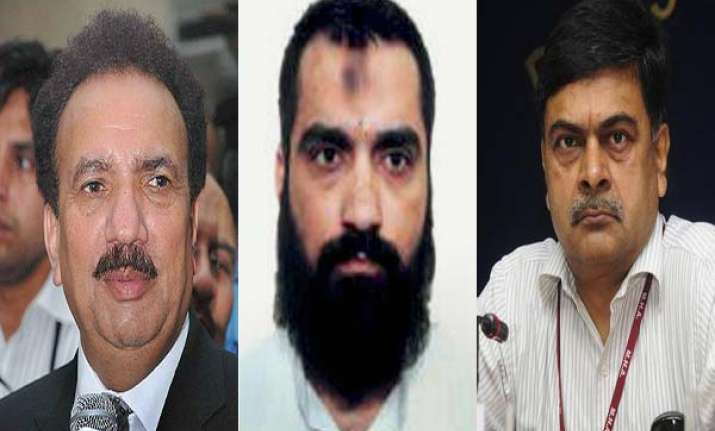 New Delhi,Dec 16: Soon after Pakistan's Interior Minister Rehman Malik left India to return home, India today reacted strongly to his statement that Lashkar-e-Taiba (LeT) terrorist Abu Jundal was an operative of an elite Indian intelligence agency, saying it was a "ridiculous" remark.
"Such a statement is ridiculous. Jundal was working with the LeT in Pakistan's soil when the Mumbai terror attack was carried out," Home Secretary R K Singh told PTI tonight.
Singh was reacting to Malik's statement during the day that Jundal was working as an agent of an elite Indian intelligence agency.
"Abu Jundal is an Indian. We are also curious as to how he and others landed in Pakistan. He was a known criminal. He worked as a source of an Indian intelligence agency. I am not saying this. He himself has said so. I have seen records," Malik told Times of India.  
The remark  has outraged  the Indian government, considering Pakistan went to great lengths to block Jundal's deportation from Saudi Arabia.
Pakistan's diplomats had even told Saudi authorities that Jundal was a Pakistani, citing the passport and the national identity number issued to him.
While  talking to TOI, Malik also underlined the involvement of two other Indians, including Ansari in the 26/11 attack, who had been to Pakistan.
"We have to figure out all these...whether non-state actors from the two sides are acting at the instance of a third power. You are aware that things had taken an alarming turn, with both countries massing their troops on the border. Things would have been worse if the leadership on both sides had not shown maturity," said Malik.
On Malik's remark that Indian agencies could have prevented the Mumbai terror attack, the Home Ministry in a statement said the main issue was that the Mumbai terror attack was conceived and planned and directed from the soil of Pakistan.
Pakistan did not take any action against these terrorist elements when the plan was being conceived and put into effect, it said.
The Home Ministry also said even after the Mumbai terror attack when full facts were known to the world, Pakistan was hesitating to take action against key conspirators and key operatives.