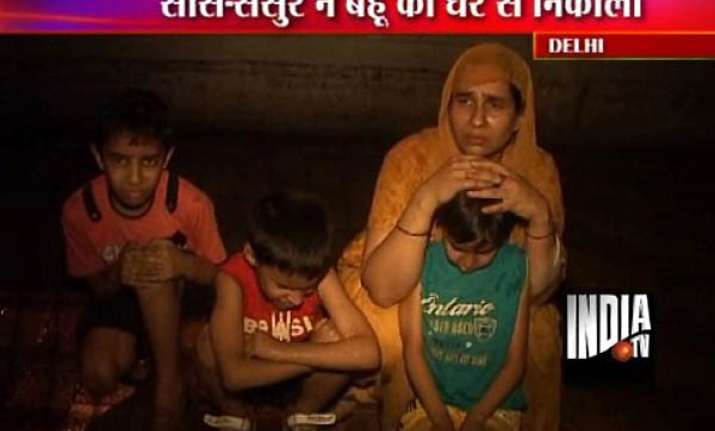 New Delhi, May 22: Geeta Dagar, a young widow, was thrown out of her in-laws' house along with her three children on Saturday evening, even as strong winds and gales accompanied by rains were lashing the capital.

Geeta's husband died of diabetes this year, and since then both her mother-in-law Dayavati and father-in-law Sukhbir Dagar had been torturing her. She was attacked with knives and beaten with a stick, to force her to leave her in-laws' house.

On Saturday, Geeta was again bashed up and thrown out of the house in South Delhi's Shahpur Jat village in pouring rain along with her three children - Jatin, Shivani and Nitin. The three children are in awe of their grand parents.

Geeta spent her entire savings and jewellery to treat her husband, but after he passed away, the in-laws turned on her, saying that since they have lost their son, they do not need a daughter-in-law.

Geeta used to run a tailoring shop for the last six years, but the in-laws forced her to close it down. Geeta had secured a lower court order allowing her to stay in her in-laws' house.

On Saturday, she filed a police complaint, but Delhi Police is yet to take any concrete action.