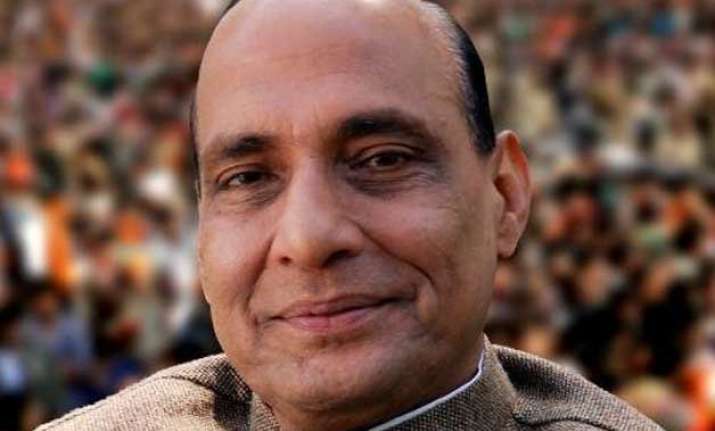 1. 'Talkathon' session with 3 Union Ministers
New Delhi
: As part of the NDA government's media blitzkrieg to highlight achievements made during its one-year rule, three Union ministers will participate in a 'talkathon' session today during which they will answer questions posted on Twitter.
As per the statement issued by the I&B Ministry, HRD Minister Smriti Irani, Coal and Power Minister Piyush Goyal and Commerce Minister Nirmala Sitharaman will take part in the 90-minute programme beginning 6 PM.
2. Cabinet to discuss re-promulgation of Land Ordinance
Delhi: The Union Cabinet will today discuss the re-promulgation of Land Ordinance in a meeting to be held at 10:30am at 7RCR, the residence of PM Narendra Modi.
3. Rajnath Singh to visit Naxal-affected Chattisgarh
Raipur: With Chattisgarh proving to be the biggest challenge for the NDA government in its fight against left-wing extremism, home minister Rajnath Singh will today visit the worst Naxal-affected districts in the state.
4. Arun Jaitley to inaugurate new pulp line of Security Paper Mill
Hoshangabad: Union Minister Arun Jaitley will today inaugurate new pulp line of Security Paper Mill at 10am. He will address farmers after handing over logistic hub at Pawarkheda in Itarsi, and will later hold a Press Conference in Bhopal.
5. Devendra Fadnavis and Nitin Gadkari to hold Janta Darbar in Nagpur
Nagpur: Maharashtra CM Devendra Fadnavis and Nitin Gadkari will today hold Janta Darbar in Nagpur. They will hear problems of people together. Around 8000 people have requested to meet them
6. Lalu Yadav, Nitish Kumar, Sharad Yadav invited for Nishad Maharally
Patna: RJD Supremo Lalu Yadav, Bihar CM Nitish Kumar, JDU leader Sharad Yadav will today be in attendance at Nishad Maharally at Gandhi Maidan in Patna.
7. Ramdas Athavle will visit family of brutally murdered Dalit youth
Shirdi: RPI leader Ramdas Athavle will today visit family of brutally murdered Dalit youth Sagar Shejwal. On May 16, eight youths killed 25-year-old Sagar Shejwal, following an altercation over his Ambedkar ring tone
8. Sharad Pawar to visit 5 drought hit districts of Marathawada
Aurangabad: NCP Supremo Sharad Pawar will be on 3 days tour starting today of 5 drought hit 5 districts of Marathawada. Aurangabad, Jalna, Beed, Latur and Osmanabad
9. Punjab youth congress would demonstrate against Punjab Government
Chandigarh: Punjab youth congress will today demonstrate against Punjab Government at Siswan in front of 7 Star resort being built by Badal family. Resort in news after reports of Greater Mohali Area Development Authority (GMADA) spending Rs 29 crores making road to resort.
10. Panchkula CBI court to hear Sadhvi rape case
Chandigarh: Panchkula CBI court will today hear Sadhvi rape case against Dera Sirsa chief Ram Rahim.
11. Maggi noodles controversy: UP FDA gives nod to prosecute Nestle
Barabanki: Uttar Pradesh FDA had given the nod to prosecute Nestle and the case will be filed in Barabanki today. Notably, Nestle's popular product Maggi noodles is tested to contain excess MSG and lead, much beyond the approved limit.
12. Monsoon to hit Kerala today: Met Dept
Thiruvananthapuram: With the monsoon set to hit Kerala coast today, the Meteorological Department has warned of heavy rains in the northern part of the state.