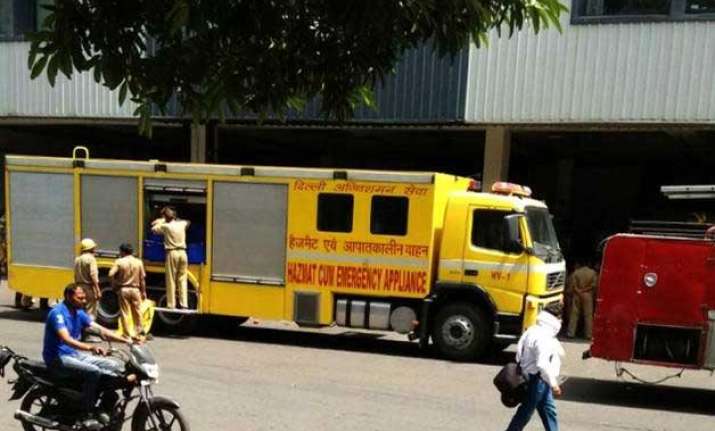 New Delhi:  Cargo operations were temporarily suspended and staff was evacuated today from the cargo area following a radiation scare at the international airport here but authorities later declared that there was no radioactive leakage.
Hours after NDRF and airport authorities suspected a radioactive leak at IGI Airport, the Atomic Energy Regulatory Board (AERB) team found that an "organic liquid" from another consignment had spilled over the cargo containing nuclear medicine and it was initially thought that the leakage was from that package.
"After conducting the probe at the site, we can confirm that there is no radioactive leakage. The leakage on the consignment was a spill-over from another consignment. It is some organic liquid. This resulted in wetness (of the Turkish consignment)," AERB Vice-Chairman R Bhattacharya told PTI.
The authorities at the airport had cordoned off the cargo area and all the staff have been evacuated. Cargo operations were also suspended as a precautionary measure.
 The matter came to light when a pair of loaders felt irritation while handling containers that arrived on board a Turkish Airlines craft at 4:35 AM. Leakage was observed from four of the 10 containers of 13 kg each that were imported from Turkey.
The National Disaster Response Force (NDRF) was called in to check the substance, sources said.
District magistrate of New Delhi Sanjay Kumar also confirmed that there was no leakage of radioactive material at the airport.
"It has been officially declared that there was no radioactive substance leak. A box containing a liquid was placed above the container having the radioactive material.
 "The box got damaged and the liquid got spilled over the container having the radioactive material. The is no need to panic," Kumar said.
Some packets were found wet and the cargo staff thought that it may be due to leakage from the consignment, he said.  
"The consignment was marked as 'Radioactive Material Type A Package' and hence all agencies concerned including AERB and Institute of Nuclear Medicine & Allied Sciences (INMAS) were informed. The teams from AERB and INMAS declared that there was no radioactive leakage," he said.
Earlier, the Delhi International Airport Limited (DIAL), said in a statement that there was no risk of exposure to any passenger as the area where the incident was reported far away from any of the passenger terminals.
Aviation regulator DGCA had also launched a probe into the incident.
Earlier, NDRF chief O P Singh said a special 10-member team from its base at Dwarka, close to the airport, was rushed to the spot and the area sanitised.