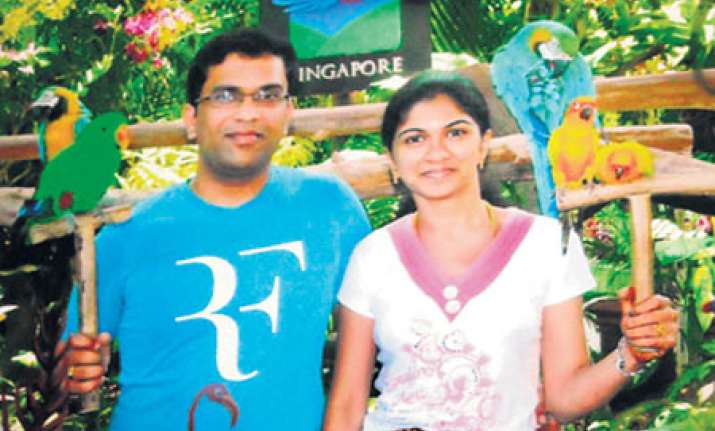 The lover of a computer professional who was brutally murdered on October 11 has told Bangalore cops in his confessional statement that he was unfuriated when she showed her honeymoon photographs to him, reports MidDay.
Naveen. Valarmazi (24) was found dead at her house in BTM Layout Second Stage on the evening of October 11. Her throat had been slit with a shard of glass.
In his confession to the police, Naveen said that he and Valarmazi had been lovers since their school days. Valarmazi's parents were against their relationship since they were relatives.
They got her married to Balasubramanyam, a mechanical engineer from a nearby village.
Naveen continued to love her and clung to the hope that she would leave her husband and come back to him. But, Valarmazi had already forgotten him and allegedly even tormented him by showing him her honeymoon pictures. An angry Naveen couldn't take it anymore and decided to end her life.
"She was insulting and teasing me by showing me photographs of her honeymoon in Singapore. She loved me but dumped me when she met Balasubramanyam. I murdered her to do justice to my love. I truly loved her but she cheated me and cheated our love," Naveen reportedly told the cops during interrogation.
Deputy Commissioner of Police (Southeast) BNS Reddy said, "We are still interrogating him and have to get more details. But he has confessed to the crime." 
Valarmazi and Naveen had been lovers since their school days and had decided to get married after completing their education. After finishing school, they enrolled to study engineering in the same college in Tamil Nadu.
They got closer during their engineering days and sometimes stayed together. But Valarmazi's parents got to know about this and asked Naveen, who is Valarmazi's maternal uncle, to keep away from her.
Later, they got her married to Balasubramanyam and even Valarmazi began to start liking him over Naveen.