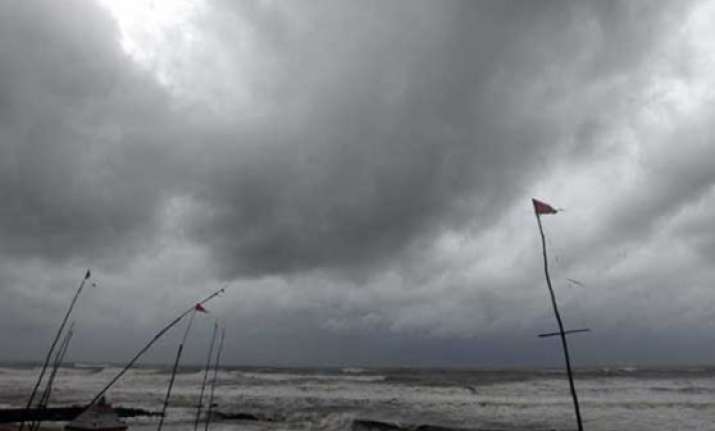 Bhubaneswar: With Cyclone Hudhud set to hit the coast in neighbouring Andhra Pradesh, heavy rains coupled with high-speed wind lashed several parts of south Odisha where over 45,000 people have been evacuated from vulnerable areas to safety.
Though the very severe cyclonic storm is likely to make a landfall near Visakhapatnam in Andhra Pradesh, Odisha government has braced for the calamity and kept Army teams and choppers on standby for rescue and relief operations besides deploying NDRF and ODRAF personnel.
An estimated 45,000 people have so far been evacuated in eight districts of Malkangiri, Koraput, Rayagada, Nabarangpur, Ganjam, Gajapati, Kandhamal and Kalahandi to ensure zero casualty, Special Relief Commissioner (SRC) PK Mohapatra said.
Under the influence of the cyclone ahead of its landfall, heavy rains pounded many parts of Malkangiri, Ganjam, Khurda, Gajapati, Puri and Rayagada districts, while strong surface wind swept several areas.
The state capital of Bhubaneswar also experienced rains since last night and the intensity of rain and wind flow is gradually gaining pace as Hudhud roared towards the coast.
To deal with the calamity, as many 26 teams - 16 of NDRF and 10 teams of ODRF - have already been deployed in vulnerable places for rescue work, according to Chief Secretary GC Pati. Each team comprises 40 personnel.
"We have been assured by the Centre that army teams will be ready at Raipur in Chhattisgarh and 5 choppers at Kalaikunda in West Bengal for our call," he said.
As a precautionary measure, East Coast Railways cancelled train services on Bhubaneswar-Visakhapatanam route, while the state government has stopped bus service in five districts like Ganjam, Gajapati, Rayagada, Nabarangpur and parts of Kalahandi. The private bus operators have also been asked not to operate service on Monday.
"We have appealed to the public in the eight districts not to venture out of their houses during the landfall of the cyclone and six hours after that," Mohapatra said, adding BSNL had been requested to send SMS to its users urging them not to venture out.
According to the latest IMD bulletin, rain and thundershowers would occur at most places in the state during the next 48 hours.
Similarly, heavy to very heavy rainfall in some places with extremely heavy rainfall is expected at one or two places in Malkangiri, Koraput, Rayagada, Nawarangpur, Ganjam, Gajpati, Kalahandi and Phulbani of South Odisha in the next 24 hours, said local IMD centre Director Sarat Sahu.
Heavy to very heavy rainfall has been forecast at one or two places in Khurda, Puri, Jagatsinghpur, Nayagarh, Jajpur, Balasore, Bhadrak, Kendrapara, Cuttack, Dhenkanal and Maurbhanj during the same period.
As advised by the MET office, Local Cautionary Signal Number Three (LC-III) is kept hoisted at all ports in the state.
Under the impact of Hudhud, squally wind speed reaching 70-80 kmph and gusting to 90 kmph would prevail along and off South Odisha coasts for sometime and wind speed would gradually increase to 80-90 kmph along and off south Odisha (Ganjam, Gajapati, Rayagada, Koraput and Malkangiri districts), Sahu said.
The sea condition would be very rough to high along and off South Odisha Coasts, he said.
The IMD has advised total suspension of fishing operations along and off Odisha Coast. Fishermen are advised not to venture into the sea.
Even after landfall the system would maintain the intensity of very severe cyclonic storm for six hours and gradually weaken into a cyclonic storm in subsequent six hours while moving northwestwards across south interior Odisha and Chhattisgarh, an IMD bulletin said.
Under its influence rainfall at most places with heavy falls at a few places would occur in southern part of the state and isolated heavy to very heavy falls in the north.
Gale wind speed reaching 100-120 kmph gusting to 130 kmph would also prevail for six hours after landfall and 80-90 kmph gusting to 100 kmph for subsequent 6 hours in Ganjam, Gajapati, Rayagada, Koraput and Malkangiri districts.
Squally wind speed reaching 55-65 kmph gusting to 75 kmph would also prevail for next 12 hours after landfall in the rest of the districts of south Odisha, it said.
Mohapatra said the state government had specially arranged different reservoirs to accumulate more water.
The reservoirs at Indravati, Kolab and Balimela are being arranged by the water resources department, he said.
"We fear high flood in the Bansadhara, Rusikulya and Nagabali rivers in southern Odisha due to heavy rainfall," Mohapatra said, adding Andhra Pradesh government had assured Odisha to keep the barrage at Gota open.
On Saturday, a nine-year-old girl drowned and a boy was reported missing when a mechanised boat engaged in evacuating people from seaside Satabhaya area in Kendrapara district capsized in Baunsagadi rivulet, he said.
The residents of Magarakanda village were being evacuated when the mishap occurred, Kendrapara Collector Pramod Kumar Das said.