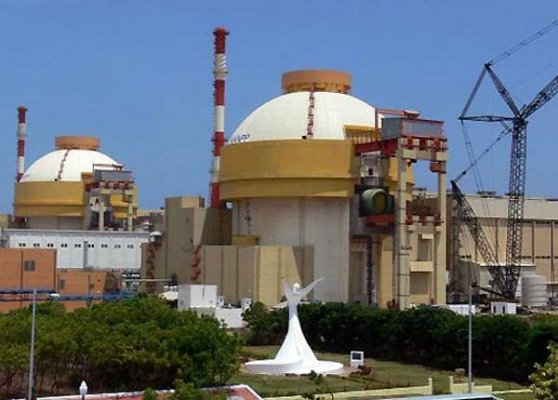 Tirunelveli: The 'hot run' of Unit II of Kudankulam Nuclear Power Plant would begin next week while preliminary work on construction of the third unit would start in March 2015, a senior official said yesterday.
"The Unit II hot run will begin next week and preliminary work for construction of third reactor will begin on March 2015. The first pour of concrete would be the beginning of 2016. Work on the third unit will be over in 72 months," Site Director of (Kudankulam Nuclear Power Plant) KNPP R S Sundar told reporters here.
He said the central government had earmarked Rs 39,746 crore for construction of Units III and IV.
Sundar said the first unit has been maintaining its full 1000 MWe capacity and that they were expecting a nod from Nuclear Power Corporation of India (NPCIL) for it to begin formal commercial production.
The unit had so far generated 300 crore units, of which half was given to the Tamil Nadu power grid.
Once commercial production begins, the cost of one unit would be increased from Rs 1.22 to Rs 4, he said.
To a question, he said about two lakh people had so far been allowed to visit the KNPP site to allay apprehensions on the safety of the project.
"We also plan to conduct emergency mock drill for the third and fourth units," he said.
The 1000 MW capacity first unit of the Indo-Russian joint venture began power generation on October 22, 2013.
The unit attained criticality in July 2012 after much delay, largely due to protests against the project by anti nuclear activists, spearheaded by People's Movement Against Nuclear Energy, in areas around the complex, citing safety reasons.
Earlier, Sundar handed over a cheque for Rs 55 crore as KNPP's contribution to Tirunelveli District Collector M Karunakaran for construction of houses for fisherfolk of coastal villages in and around Kudankulam.