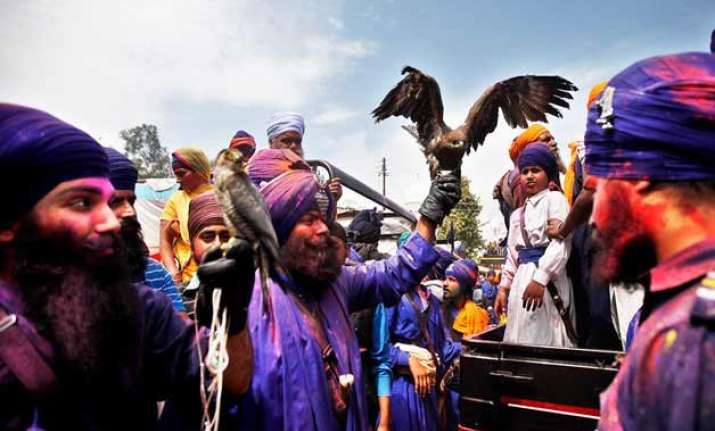 Anandpur Sahib (Punjab): A day assigned for mock battles for his troops by the 10th guru of Sikhs, Guru Gobind Singh, has come to be the symbol of Punjab's own rich religious and cultural tradition. The festival of 'Hola Mohalla', as it is known, takes place this weekend in this Sikh religious town.
Hola Mohalla, celebrated a day after Holi, the Hindu festival of colours, has carved out its own unique place in Punjab's and Sikh religion's calendar. The festival made its beginning around 1701 as Guru Gobind Singh wanted his troops to have mock battles to keep them battle ready.
Tens of thousands of Nihang Sikhs assemble in this town, home to Takht Keshgarh Sahib, the second holiest of Sikh shrines (after Harmandar Sahib or Golden Temple in Amritsar), every year to be part of the festival.
The shrine is famous as it was here that Guru Gobind Singh founded the 'Khalsa Panth', the modern day Sikh religion, in April 1699.
During the festivities, various sects (deras) of Nihangs go in a procession from the main gurdwara and pass through the holy town.
The procession then culminates at a stadium where the Nihang Sikhs perform 'Gatka', a traditional form of martial art in which age-old weapons and equipment are used to showcase mock battles.
"It is an amazing sight to see the Gatka performance. The festivity around the procession and the colourful atmosphere make it a great spectacle to watch," travel writer and author Puneetinder Kaur Sidhu told IANS.
Though the Hola Mohalla festivities earlier used to be essentially mock combat based, these have gradually also turned into a politico-religious affair.
Leading political parties hold their political conferences before the main event. Millions of devout assemble at the shrine to offer prayers on the occasion.
"It is such an enriching and unique experience to be part of the Hola Mohalla. We have been bringing groups of foreigners from various countries since 2009 to see the event.
"They are amazed at what is on display. The weaponry and colourful atmosphere are a thing to experience," Harkirat Ahluwalia, who runs a tented luxury farm resort near Hoshiarpur, 75 km from here, told IANS.
Ahluwalia is all set to bring a group of 22 Germans for the Hola Mohalla this year.
"The groups of Nihang Sikhs converge here on foot, on horse backs, elephants, trucks, tractor-trolleys and other vehicles," Sidhu said. "It is a spectacle."
In the buildup to the main event of Hola Mohalla, all roads and highways leading to Anandpur Sahib are choked with people being ferried on trucks, buses and other modes of transport.
This year is no different -- a virtual sea of humanity is set to throng Anandpur Sahib.