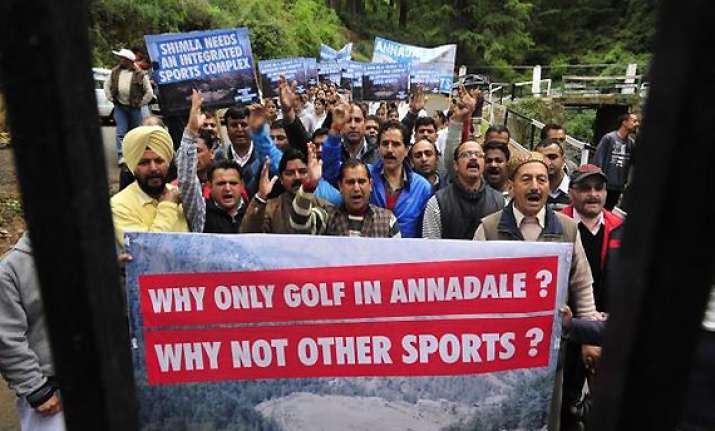 New Delhi, Apr 16:
With the Himachal Pradesh Chief Minister taking an exception to it, the Indian Army has ordered an inquiry into the "derogatory" press release issued by its Western Command Headquarters against the State government over Annadale ground ownership controversy.
Insisting that the relationship between the force and the State government is very good, Army Chief General V.K. Singh also said he would speak to Himachal Pradesh Chief Minister P.K. Dhumal over the issue.
"I will talk to the Chief Minister. Ours and the Chief Minister's relationship is very good," Gen. Singh said when asked to comment on the row between Himachal Pradesh government and military over ownership of Annandale ground.
Gen. Singh said he has sought a report from the Western Command Headquarters over the statement issued by it.
"They (Western Command) have told us. They will rectify it and we have no problem with that," Gen. Singh said.
Ordering an inquiry, the Indian Army in a release said, "With regards to Annadale land issues, Army has instituted an inquiry into the Press Release issued by HQ Western Command, which was derogatory against the State Government and Chief Minister of Himachal Pradesh."
The 121-bigha ground, surrounded by thick forests just 4.5 km from Shimla's Ridge, has been under the Army's control since World War II.
The area has become a bone of contention between the State government and the Army amid an intensified campaign launched by Himachal Pradesh Cricket association headed by Mr. Dhumal's son and MP Anurag Thakur.
Mr. Thakur has been demanding restoration of the ground to the State authorities.
The row escalated after Army, in a statement on Sunday, said national security cannot be ignored for "game and gimmicks".
After the Army's statement, Mr. Dhumal had threatened to file a defamation suit against the Army if it did not tender an unconditional apology for allegedly maligning the image of the government and him in particular.
Talking to PTI after meeting Mr. Antony in his office, Mr. Dhumal said, the Defence Minister expressed "disappointment" at the statement issued by the Army.
He said Mr. Antony had told him that in the morning itself he had told the Army Chief and the Western Commander that "whatever has happened is wrong".
Mr. Dhumal insisted that the State government has always cooperated with the Army and recalled that he had raised the issue last year when Mr. Antony had visited the Rohtang pass.
Mr. Dhumal said that in 1988, the then Defence Minister K.C. Pant had agreed to hand over the land to the civil administration, provided the Army was allowed to use it for operational purposes.
"I showed Antony the record that in 1988, the then Defence Minister K.C. Pant had said that the ground can be handed over to the civil administration, provided Army is allowed to use it for helicopter landing facility and usage during operations," Mr. Dhumal said.