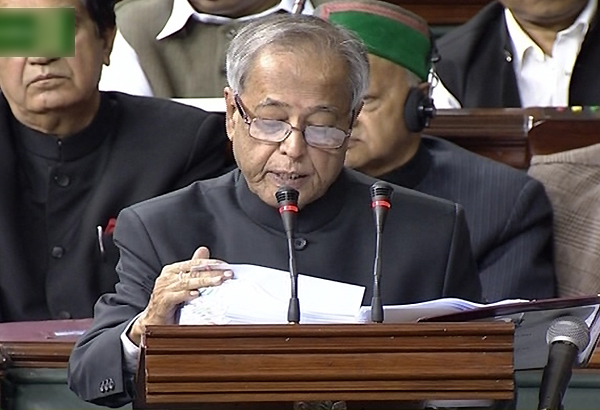 New Delhi, Mar 16: Following are some of the highlights of Finance Minister Pranab Mukherjee's Union Budget speech in Parliament today:

-- This year was a year of recovery for Indian economy.

-- Adverse impact of global slowdown on Indian economy has been disappointing.

-- 6.9 per cent GDP growth rate this year compared to 8.4 pc growth rate in each of preceding two years.

-- Economy is now turning around, says Pranab.

-- Exports in April-Jan rose 23 pc to $243 billion.

-- Imports in April-Jan rose 29 pc to $391 billion.

-- It is heartening India has successfully acted in diversion of export markets, says Pranab.

-- Inflation expected to moderate in next few months and then stabilize, says Pranab.

-- Supply constraints and global costs main cause of inflation.

-- We expect 7.6 pc GDP growth rate in 2012-13 plus/minus 0.2 pc, says Pranab.

-- Subsidies have hit fiscal balance, major subsidies are for food, fertilizers and petro products.

-- Govt proposes to raise Rs 30,000 crore through disinvestment.

-- From 2012-13, food subsidies under Food Security Act will be fully provided for.

-- Govt's endeavour will be to restrict subsidies from 2 pc  to 1.7 pc of GDP.

-- Subsidies will be better targetted and leakage proof.

-- Mobile based fertiliser direct subsidy transfer from manufacturer to retailers, farmers.

-- Pilot projects in Mysore and Alwar for direct transfer of LPG subsidy.

-- 50 selected districts will implement direct LPG subsidy transfer in next 6 months.

-- Constitutional Amendment Bill on GST is presently before Parliament Standing committee.

-- Pranab appeals to all political parties for easy passage of GST Bill.

-- Direct Tax Code implementation deferred.

-- Efforts to arrive at broadbased consensus with state governments on allowing FDI in multibrand retail up to 51 per cent.

-- GST to be operational by August this year.

-- Direct cash subsidy for LPG, Kerosene.

-- Measures to boost capital equity market.

-- Income Tax deduction of 50 per cent on investments of up to Rs 50,000 in savings scheme named after Rajiv Gandhi.

-- Govt to bring new law for microfinancing companies in Budget session.

-- 10 per cent of IPO through electronic platform will be mandatory.

-- Tax-Free Infrastructure Bonds Doubled From Rs 30,000 cr to Rs 60,000 cr.

-- 8,800 kilometres proposed under National Highway Development Project.

-- Airline companies will be allowed ECB for working capital requirements upto a ceiling of $ 1 billion.

-- FDI in Aviation Sector under active consideration.

-- Agriculture credit  for farmers raised by Rs 1 lakh cr to Rs 5.75 lakh cr.

-- Infrastructure investment in 12th Plan to go up to Rs 50 lakh crore; half of it to come from pvt sector.

-- Rs 15,888 cr to be provided for capitalisation of public sector and regional rural banks and NABARD.

-- Microfin institution regulation bill, natl housing bank regulation bill, reg bank regulation bill and public debt management bill this session.

-- IPO equity offer above Rs 10 crore will have to be made Government to set up Rs 5000 crore venture fund for MSME sector.

-- India will become self-sufficient in urea production in five years.

-- Two new mega clusters for handloom weavers proposed for Prakasam-Guntur and Godda-Jharkhand.

-- One percent less interest for Home Loans upto Rs 25 Lakhs to continue.

-- Govt to provide Rs 10,000 crore to NABARD for refinancing regional rural banks.

-- Additional 3 per cent interest subvention to farmers for promptly repaying their dues.

-- National Mission on Food Processing to be started in 2012-13.

-- Govt to create PDS through Adhaar platform by Dec to realise objectives of Food Security Bill.

-- Rs 15,850 cr to be allocated to Integrated Child Development Scheme in 2012-13 as against Rs 10,000 cr this fiscal.

-- Allocation for rural drinking water and sanitation scheme increased from Rs 11,000 cr in FY 12 to Rs 14,000 cr in 2012-13.

-- National Rural Health Mission target  raised from Rs 18,150 cr to Rs 20,822 crore.

--Pradhanmantri Swasthya Suraksha Yojana to cover seven more medical colleges.

-- National Backward Region Grant scheme outlay raised by 22 per cent to Rs 12,040 crore.

-- Rs 20,000 cr to be spent on rural infrastructure development, including Rs 5,000 cr for creating warehousing facilities.

-- Interest subvention of 7 pc to women self groups for loans up to Rs 3 lakh, additional 3 pc for those making timely repayment.

-- Rs 1000 crore to be provided for National Skill Development Corporation in 2012-13.

-- Rs 3,915 crore to be spent on National Rural Livelihood Mission.

-- Rs 193,407 crore provision made for defence services in 2012-13.

-- 40 crore Aadhar enrollment in year beginning April 2012.

-- White Paper on black money to be tabled in current session of Parliament.

-- Information on blackmoney stashed abroad has started flowing in; prosecution to be executed in some cases.

-- Net tax receipts of the Centre in 2011-12 stands at Rs 7,71,071 crore.

-- Non-plan expenditure Rs 9,69,900 crore in 2012-13; 8.7 per cent higher than current year.

-- Direct tax collection fell short by Rs 32,000 crore in current fiscal.

-- Fiscal deficit at 5.9 per cent of GDP in revised estimates for 2011-12 Determined to bring down fiscal deficit to 5.1 per cent of GDP next fiscal.

-- Total debt of the Centre will be 45 per cent of GDP.

-- Revenue deficit for 2012-13 projected at Rs 1,85,752 crore.