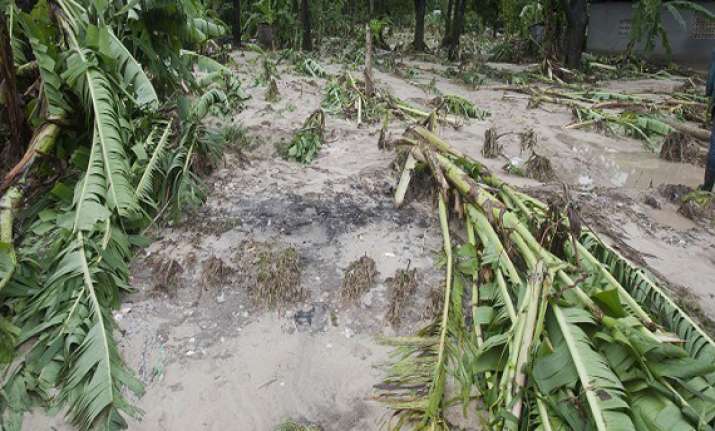 Hyderabad, Aug 8: Standing crops in 73,098 hectares and about 1900 houses suffered damages due to heavy rains that lashed Andhra Pradesh during the current spell of monsoon in the state, officials said here yesterday.
Horticulture crops in 3,075.80 hectares, 541 minor
irrigation tanks and 2,072.7 km of roads were also badly hit by the rains, officials said.
The government organised 158 relief camps providing shelter to 48,735 people from June 1 to the end of July.  
In August, 174 relief camps were organised in Khammam, East Godavari, Warangal and Adilabad districts, they said.  
Over 20 people were killed in rain-related incidents, official sources said.
Andhra Pradesh Chief Minister N Kiran Kumar Reddy, who reviewed the situation and water levels in various reservoirs in the state, expressed happiness that water levels in all reservoirs, including Srisailam and Nagarjuna Sagar, are full and that agriculture operations are in full swing, official sources said.
He directed officials to monitor water levels in reservoirs to ensure that water is released to canals for cultivation, they said.
The total rainfall received from June 1 to August 7 is 384.8 mm, as against a normal rainfall of 332.9 mm. The average rainfall recorded today was 3.7 mm, as against 10.3 mm yesterday, they said.
The Chief Minister has directed the collectors of Khammam, East and West Godavari districts to provide relief to victims of heavy rains and floods, sources said.
Meanwhile, two teams of National Disaster Response Force (NDRF), comprising 87 personnel, have been deputed to Adilabad district while one helicopter was requisitioned for rescue and relief operations in Warangal district, sources said.