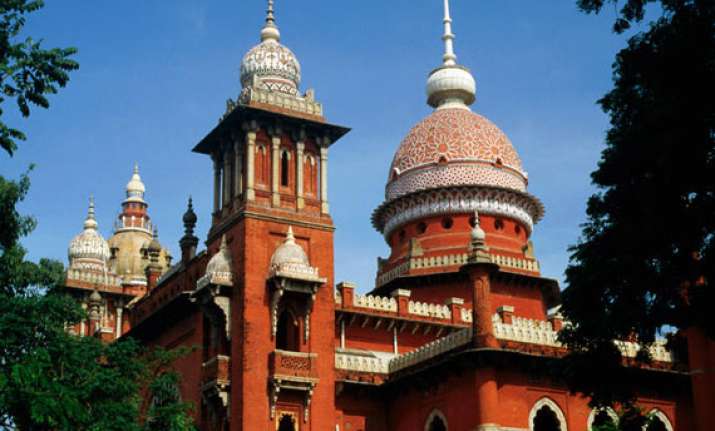 Chennai:  Madras High Court today upheld a single judge's order holding a bishop guilty of contempt of court, but said its directive to him "to seek pardon from the source in whose jurisdiction he has faith" was a clear case of punishment.
The First Bench comprising acting Chief Justice Sathish K Agnihotri and Justice K K Sasidharan stated this allowing a contempt appeal by Rt Reverend Dr H A Martin, bishop of Tamil Evanegelical Lutheran church, Tiruchirapalli, against the single judge's order, holding him liable for his contemptuous act and directing him "to take pardon from divine faith."
It said the contempt appeal is directed against the September 6 2013 order of a single judge, holding Martin guilty of contempt but which refrained from imposing punishment.
Its direction permitting him to "seek pardon from the source in whose jurisdiction the contemnor has faith" is a clear case of punishment, the bench said.  
The bench, while deciding on the moot question whether the order holding Martin guilty of contempt of court and punishing him for his contemptuous act and thereafter issuing him the directive would amount to RPT would amount to a sentence enabling him to file a statutory appeal under Contempt of Courts Act, said the appeal under the act is maintainable RPT the appeal under the Act is maintainable.  
It noted the Tamil Evangelical Lutheran Church is very much in news now for the wrong reasons and there is infighting between the faction led by Martin and E D Charles.  
In litigations filed over elections to the church, the bishop notwithstanding the directive by single judge that the meeting be convened jointly by him, Charles and the court appointed Administrator,had convened an extra ordinary general body meeting on 26 and 27 April 2013 without consulting others.
So Charles filed a contempt petition against Martin. The single judge found the bishop guilty of contempt as he had thrown the confidence of the Administrator to the winds by "dubious" methods and said his action was nothing but a clear, unambiguous and tortuous violation of its directive.  
The judge said that by closing the central office and thereby preventing the administrator from handing over charge to the newly elected body, the bishop had not only disobeyed the directive but also interfered in administration of justice and held him liable for punishment, but only imposed fine and sentence and directed to take pardon from the divine faith.