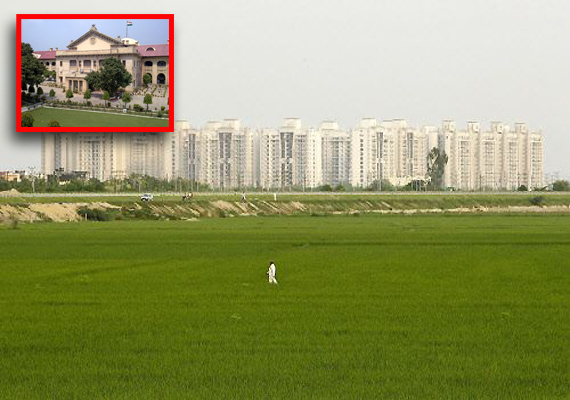 Allahabad, Mar 23: In yet another case of annulment of land acquisition by Uttar Pradesh government in Greater Noida, the Allahabad High Court today directed authorities to return five hectares of land to two farmers from Gautam Buddh Nagar district.
The court also imposed a cost of Rs 25,000 on the state government and the Greater Noida Industrial Development Authority (GNIDA).
A division bench comprising justices Sunil Ambawani and Manoj Mishra gave the verdict on the writ petition of Ram Singh and another farmer, who owned 4.9 hectares of land in village Briandi Chakrasenpur under Pargana Dadri tehsil which had not been taken possession of despite a notification for acquisition being issued over three years ago.  
The petitioners had moved the court challenging acquisition of their land, on which they had been carrying out farming besides having built houses, vide notification dated November 19, 2008 whereby a total of 9.8 hectares of land was acquired in the village for the purpose of "planned industrial development".
The petitioners had submitted that their land was acquired without the district authorities or the GNIDA having discussed the matter with them and stated that they were not interested in compensation or a share in the developed land but only wanted back their plot, which had so far not been taken possession of.
The court allowed the petition while holding that the respondents' objection to returning the land to  petitioners on the ground that "leaving a plot will raise concrete jungle and will affect the planning" was "totally devoid of force".
The court also underscored that a specially-constituted three-judge Bench had in its order in October last year, whereby thousands of similar petitions were decided, agreed to an enhanced compensation and a share of the developed land being provided to farmers "only in respect of land on which development had taken place or had started and third party rights had intervened".
The acquisition of thousands of hectares of land in Gautam Buddh Nagar district during the previous Mayawati government in Uttar Pradesh for the development of Greater Noida and Noida Extension areas has repeatedly drawn flak from the High Court which has set aside a number of such acquisitions and some of the orders have been later upheld by the Supreme Court as well.