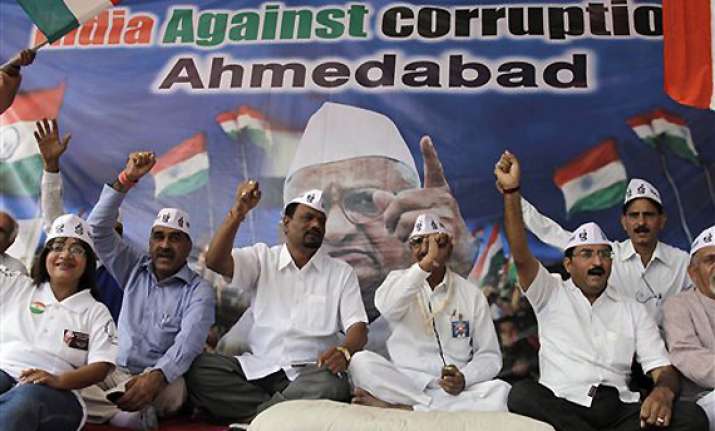 Jammu/Chennai, Dec 27: As Anna Hazare embarked on his fast in Mumbai and Team Anna held fort in Delhi today, scattered protests by his supporters against a "weak" Lokpal Bill were reported elsewhere in the country. 

The supporters of the 74-year-old Gandhian launched protest dharnas in Chandigarh, Jammu, Kolkata, Chennai and Bangalore among other cities but reports suggested that the stir received a less than enthusiastic response. 

Nearly 50 Team Anna supporters were taken into custody by the Chandigarh Police for holding a protest demonstration in the Union Territory without permission.  Police said the protesters were rounded up from close to the Sector 17 inter-state bus terminus. 

"The group did not have any permission to hold protest demonstration and we removed them from there as per law. We will book them under relevant sections of the law," a Sector 19 police official said.

However, a Team Anna member in Chandigarh called the police action as undemocratic.

"We were sitting in a peaceful manner causing no threat to the law and order. This action of police is undemocratic and against our right to hold protest in a peaceful manner," he said.

In Kolkata, a handful of his supporters sat on a dharna in front of Mahajati Sadan.

Holding placards, they raised slogans saying "We support Anna. Anna go ahead, we are with you."

Braving cold condition and morning chill, around 200 activists of 17 social, trade, religious and community organisations under the banner 'Jammu and Kashmir—India Against Corruption" launched a protest dharna in Jammu outside the Press Club premises.

The activists chanted slogans like 'Bharat Mata Ji Jai', 'Vande Matram' and 'Anna we are with you'. 

"We urge upon the parliamentarians in general to support the Jan Lokpal Bill and make it possible that genuine Lokpal Bill is passed in parliament. They should support the Lokpal Bill with conscience and not under any pressure", a resolution passed during the dharna said. 

"We are here to express our full support with Anna.  Comman man is fed up of corruption and every one is with him in this war against corruption. We will stand by him till the bill is not passed", Jammu Province Peoples Front (JPPF) President, Pavitar Singh, told reporters in Jammu.  Expressing solidarity with Hazare, his supporters in Chennai commenced a fast.

"While 26 people will fast continuously for three days, over 100 have lent their support. We expect more people to join as some have said they want to join from tomorrow," Banu Gomes, media coordinator of India Against Corruption(IAC) said at the venue, a marriage hall lent by superstar Rajnikant. 

Yesterday, Rajinikant had lent his marriage hall in Kodambakkam area in Chennai free of cost to the anti-corruption activists for three days to stage the fast. 

"We had approached him for support. He (Rajnikant) accepted it and said he was always for anti-corruption. He offered it free of cost and said it was his service to the country," M S Chandramohan, central core committee member of India against Corruption, said.