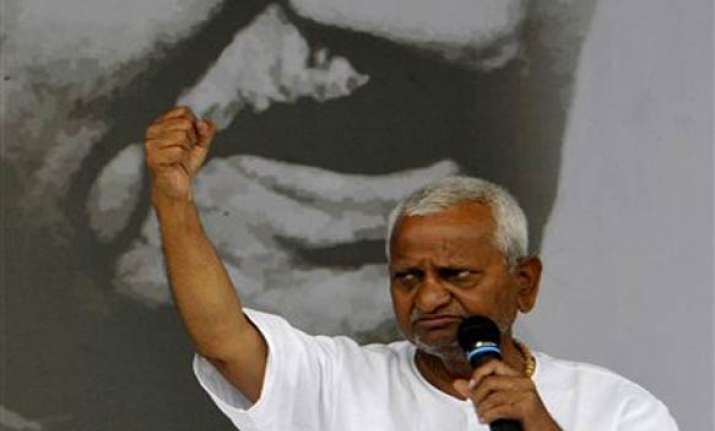 New Delhi, Aug 25: Apprehending arrest, Anna Hazare on Wednesday night gave a "Chalo Delhi" call to people all over the country and filling up of jails by gheraoing Parliament, demanding passage of Jan Lokpal Bill.

"This government has been attempting to strangle the Constitution," Hazare told his supporters at the Ramlila grounds late night after the talks with the government virtually broke down.

Giving a call for nation-wide agitation, Hazare said the time has now come that people now demonstrate against the government which is showing its true face, that of dictators and "Black Britishers".

He appealed that the nine-day movement which had remained peaceful till now should continue to be so. He asked his supporters not to destroy any property. "Fill the jails in a non-violent manner. No jail in the country should remain empty," Hazare said. Attacking the ruling party and the government, he said, "We were of the view that there were some good people in the Congress but all looters have now come together in the Congress and the country has no future in the hands of such people."

He emphasised that his vitals were normal and challenged that a government doctor can examine him. PTI Apprehending his forcible arrest and removal, Anna Hazare tonight asked his supporters to start a jail bharo agitation by gheraoing residences of MPs and getting arrested.

Addressing his supporters at Ramlila grounds after the virtual breakdown of talks, he said the way the government has now reacted to the demands of the civil society has exposed its real face, that of dictators and Black British.