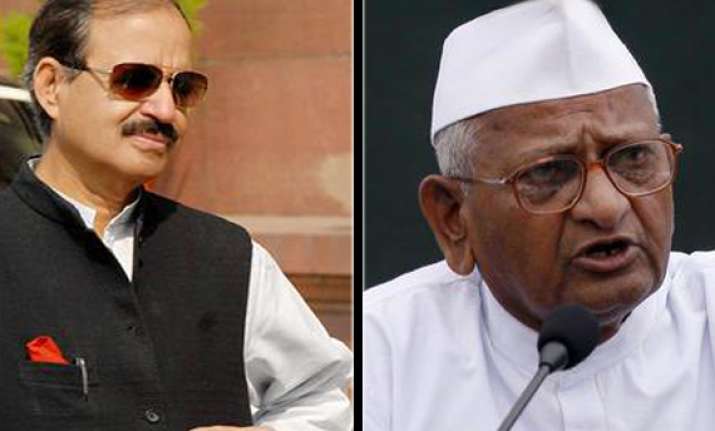 New Delhi, Oct 25: Congress today expressed hurt over Anna Hazare's statement that a "gang of four" in the government of was targeting his team, saying the party and the government had nothing to do with the allegations against Team Anna members.

The party also stressed that the Lokpal bill will be passed in the winter session itself reacting to Team Anna member Arvind Kerjiwal's challenge that the government is free to probe charges against him but it will have to bring Lokpal bill.

Congress spokesperson Rashid Alvi also rejected the contention that the government was leaking documents to defame Team Anna but insisted that it "is not important from where the documents are coming. What is important is that whether the documents have truth in them or not. They (Team Anna members) should reply to that."

He said that it becomes all the more incumbent upon those fighting against corruption to answer people when allegations are being levelled against them.  Facing allegations of financial misconduct, Kejriwal broke his silence today daring the government to conduct a probe against him and other Team Anna members even as he questioned the motive behind the "smear campaign".

Reacting to it, Alvi said, "This is totally baseless. The allegations which have been levelled against members of Team Anna are either by other members of the civil society themselves or through newspaper reports. Congress and Government have nothing to do with it." He also questioned whether using words like "gang of four" Anna Hazare was in tune with Indian ethos adding, "We respect Anna deeply and it is unfortunate he used such words." His comments came a day after Hazare alleged that a "gang of four" in the government of being behind the campaign against his team.

With his team members facing allegations of financial malfeasance, Hazare expressed these views in his latest blog posting 'Rise and Fight against 'Gang of Four'.

The social activist, however, did not name the four persons whom he was referring to but he appeared to be hinting at some of the ministers in the Joint Committee.

Reacting to Hazare's remarks, AICC general secretary Digvijay Singh commented on the microblogging site Twitter: "Anna has blogged against Gang of Four ? Who are the lucky ones ? I am curious !"

Alvi said "nobody else has created more troubles for Anna than his own friends" The Congress spokesperson described as "admission of guilt"" Kiran Bedi's offer to return the extra money she had charged from the NGOs for her air travel. "If Kiran Bedi says, I will pay back the amount, it means she is admitting her guilt," he said.

While denying the charge that the Government was leaking documents against Team Anna members, Alvi said "those exposing such corruption should be praised".