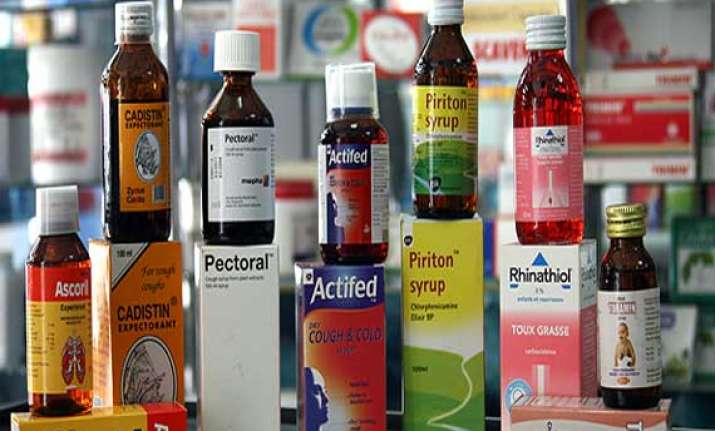 Chandigarh : In a crackdown against abuse of medicinal intoxicants, Haryana's Food and Drugs Administration (FDA) Sunday said it has unearthed illicit diversion and transportation to Bangladesh of huge quantities of a cough syrup made and sold by a multinational pharmaceutical giant.
The FDA found out that over two lakh bottles of cough syrup Phensedyl, worth over Rs.1 crore, supplied by pharma manufacturer Abbott Laboratories Ltd to Hisar-based wholesale firm M/s J.P. Medicose, were diverted to Bangladesh illegally by the firm in connivance with another non-functional Bhiwani-based medicine wholesaler.
The consignment of two lakh bottles of the cough syrup was seized by the Directorate of Revenue Intelligence (DRI) Berhampur in West Bengal recently before it could be exported to Bangladesh.
Phensedyl is not to be sold by chemists in India without prescription from doctors owing to its misuse by people as an intoxicant.
"Investigations revealed that huge quantities of this cough syrup were supplied by the company directly to the Hisar-based dealer who had further shown to have supplied the entire stocks to a Bhiwani-based unlicensed medicine trader whose licence had expired in 2008.
"The entire sales were found to have been made to this Bhiwani-based firm without any supply order and shown to have been made against cash payment," an FDA spokesperson said Sunday.
He said it was found that the entire sale was fake as the firm to whom sales have been made was non-existent.
A police complaint under various provisions of the Narcotic Drugs and Psychotropic Substances (NDPS) Act 1985, has been registered against the Hisar-based firm and its owner at Hisar police station for illicit trans-shipment, the spokesperson said.
He said a further probe in the case led to the surfacing of another supply of 1.5 lakh bottles of the cough syrup by the multinational company to Ambala-based medicine trader M/s Laxmi Drugs Store, who also siphoned off the entire stock illegally and prepared fake documents claiming to have sold to a wholesaler who never purchased even a single bottle of the product.
The department has also registered a case against this firm and its owner also under the NDPS Act.
In another case, FDA officials found that Mumbai-based pharmaceutical company Wockhart had supplied one crore capsules of Proxyvon, a pain-killer medicine which is also misused as an intoxicant. The capsules were supplied to a wholesale chemist in Rohtak, Bathala Medicose.
The central government has, since May 2013, banned the manufacture and sale of medicines and formulations containing Dextropropoxyphene and its salts in view of the rampant misuse of this drug formulation.