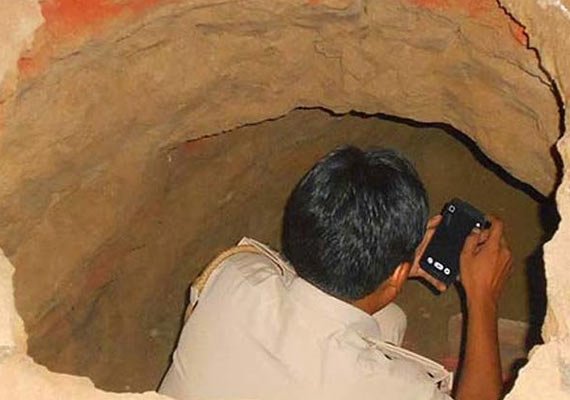 Rohtak (Haryana): The state police DGP S N Vashisth today announced a Rs 10 lakh reward for credible clues leading to the arrest of burglars, who dug a 100-feet tunnel beneath the Punjab National Bank branch in Gohana and decamped with jewellery and valuables from nearly 90 bank lockers during the weekend holidays.
SSP Arun Nehra has asked people to give clues to Police Control Room phone number 0130-2222903, DSP Gohana 08053882304 and DSP HQ Sonepat 08053882122.
The identity of the person giving clues will be kept confidential, police said.
The burglary was noticed when the PNB branch was opened by staff on Monday.
Devendra Malik, branch manager of the bank, said the bank was not responsible for the valuables kept inside the lockers by customers, because the bank does not keep records of the valuables. There were 360 lockers inside the bank, out of which nearly 90 were burgled.
The tunnel was dug from a dilapidated building in the neighbourhood, which led straight to the locker room.
Aggrieved customers sat on dharna outside the bank demanding that their valuables be returned to them.
The DGP S N Vashisht asked the aggrieved customers to send list of valuables kept inside their respective lockers.
A Special Investigation Team headed by Vivek Sharma, IG, Gurgaon range has been formed. It appears that the burglary was planned by a gang, not by an individual alone, the DGP said.
Forensic experts have taken several clues for further investigation. Cellphone conversations and locations are being checked.
The customers have vowed not to let the PNB branch reopen till their valuables are traced.