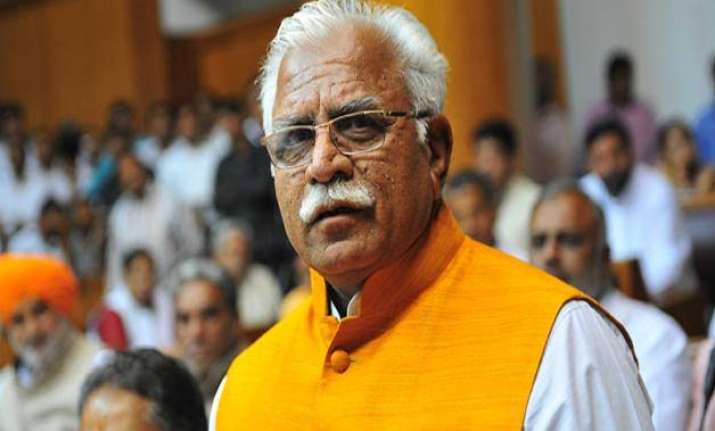 Gurgaon: Haryana Chief Minister Manohar Lal Khattar today said that complaints registered on the web-based 'CM window' can make way for personal hearing, if the complainants feel that their grievances are not adequately addressed.
The complainants making complaints on CM window will be given opportunity of personal hearing and if they are unable to explain their complaints, they can take help of prominent persons from their village or ward, Khattar said.  CM window-a web-based system aimed at speedy redressal of people's grievances, was launched by the Chief Minister last year.
Speaking at a press conference here, the CM said that some changes are also being made in the software and noted that the web-based system will be made effective so that majority of the problems of common masses are redressed through this window.
Replying to a question about the transport system in Gurgaon, the Chief Minister said that Gurgaon is a progressive and developing city and efforts were being made to provide a good transport system here.
Gurgaon is already connected with metro service and now a survey has been conducted to connect Gurgaon with Dwarka, Sector-21, Delhi, he said.
He also assured that HUDA City center metro station would be connected with Sector-9 in old city via Subhash Chowk.  In addition, extension of Rapid  Metro was also in progress on PPP mode, he said.
Referring to the city bus service, the Chief Minister said that the service would be improved by adding new buses to the city bus service fleet and a new bus stand will be constructed in Gurgaon.
While replying to a question regarding preservation of forest area in Aravali and Mangerbani, the Chief Minister said that the government would take a final decision taking into account all provisions under environment protection.  
On the question of creating Gurgaon Development Authority, Khattar said that if it was required in public interest, decision will be taken after studying all aspects.  The Chief Minister, however, refused to comment on the issue of providing basic amenities in restricted area of 900 meters of Ammunition Depot.
The Gurgaon administration had banned any construction around Ammunition Depot and Air Force Station of Arjangarh.  On being asked about alleged fraud in auction of SCO by Haryana Urban Development Authority (HUDA), the Chief Minister said that the auctioning procedure is completely transparent and if any irregularity is noticed, action will be taken against the guilty.
He said that e-auctioning will be initiated by the state government soon, adding that Excise and Taxation Department this year auctioned liquor vends through e-tendering and no complaints have been received yet.
Replying to a question regarding disconnecting of electricity supply to Gurgaon bus stand because of pending electricity bill, the Chief Minister said that the matter will be inquired as to why the bill remained pending.  He also verified that every consumer will have to pay the electricity bill, whether it is government or individual.
When the Chief Minister was asked about the Kisan Rally of Congress against NDA government's Land Acquisition Bill in Delhi today, he said that in democracy everyone has a right to organise rally.