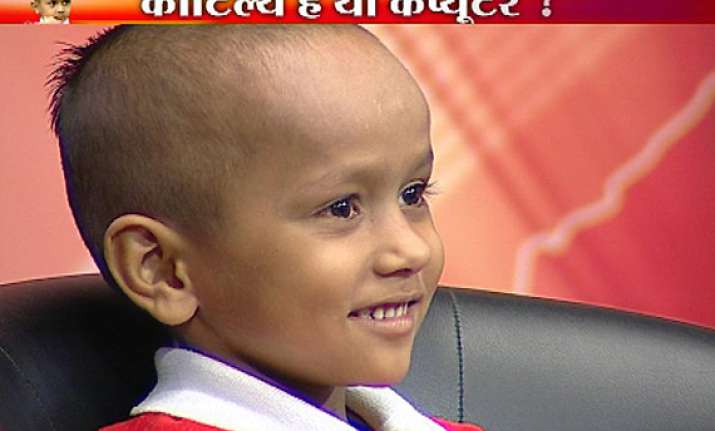 New Delhi: Five years eight month old wonder boy Kautilya studies in Class One and at this tender age, he is a veritable encyclopaedia about general knowledge nuggets.
Hailing from Kharhar village in Jhajjar district, Kautilya learnt by rote info relating to georgraphical borders, planets in space, mineral resources, etc. in the last three months during this year's summer holidays, says his grandfather Jaikishan Sharma, who taught his grandson.
Inside the India TV studio, the question-answer session went on live with celebrities like Shivani Kashyap asking questions from as far away as Mumbai.
Kautilya replied to most of the questions correctly, with minor mistakes.
Present were his father Satish Sharma and grandfather, as Kautilya faced a barrage of questions from India TV anchor and other guests.
Kautilya has a wonderful memory relating to geographical info like area, deserts, etc. about 213 countries across the world.
His parents say, the boy avoid eating adulterated food products from the market and prefers homemade food.
Neurologist Dr Kapil Singhal, who was present at the live show, said, Kautilya possessed an IQ of above 150, same as was possessed by famous scientist Albert Einstein. "His analytical powers are very good and made me spellbound", said Dr Singhal.