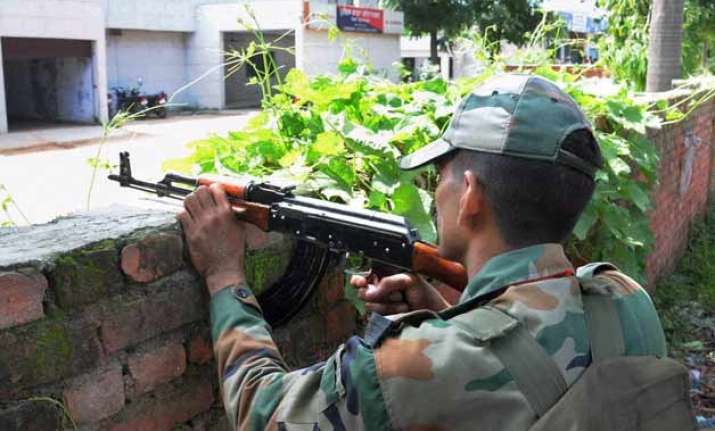 New Delhi:  The perpetrators of today terror strike in Punjab are suspected to have sneaked into India from Pakistan through the unfenced border between Jammu and Pathankot or Chak Hira in Jammu district to launch the brazen assault about which central agencies had intelligence inputs.  
Union Home Ministry sources said the terrorists, the name of whose outfit was still unclear, may have entered the Indian territory around last midnight and hit the highway using Paharpur road, nearly 15 km from the international border, to unleash mayhem that left six dead, including an SP rank officer of Punjab police.
Today's incident bore striking similarity with suicide attacks that have taken place in Kathua and Hira Nagar in Jammu region.
The last attack in Jammu was carried out by terrorists belonging to Jaish-e-Mohammed whose fidayeen combatants, clad in Army fatigues, stormed a police station in Jammu and Kashmir's Kathua District on March 20 this year, killing six persons, including three security force personnel.
Both the militants had been killed in retaliatory action.  The terrorists involved in today's attacks, also wearing Army uniforms, reached Parmanand village on Jammu and Kashmir's border with Punjab where they attempted to hijack a tempo at 5.30 AM. The tempo driver, however, managed to flee.  Later they hijacked a Maruti 800 car after injuring its driver who is hospitalised, before killing a roadside vendor near Dinanagar bypass and spraying a Punjab roadways bus with bullets.
They then storm Dinanagar police station and shot dead a sentry. Showing guts, an alert head constable picked up the rifle of the deceased sentry and fired at the terrorists, numbering three to four.
The militants have since then holed up in vacant flats in the area and are engaged in intermittent exchange of fire with Punjab police personnel, who have cordoned off the area with the help of para-military forces.
The heavily armed terrorists have so far killed six persons, including Gurudaspur SP (detective) Baljeet Singh, a Punjab provincial police service officer. Several civilians have been injured. One militant was killed and another seriously wounded in the gunbattle.
Sources said militants, who could be from Lashkar-e-Taiba terror outfit, may have entered Punjab because of heightened security on the Jammu side for the ongoing Amarnath Yatra.  Home Minister Rajnath Singh, who is away in Madhya Pradesh for CRPF's raising day function, has spoken to BSF chief D K Pathak and directed him to enhance security along the international border.
Punjab and neighbouring Himachal Pradesh had been warned of a possible terror strike following intelligence inputs generated by central agencies and the matter had come up during Union Home Secretary L C Goyal's visit to Jammu and Kashmir in the last week of June.
The intelligence inputs spoke about the possibility of Pakistan-based militants targeting locations in the two states due to enhanced security in the Jammu region.