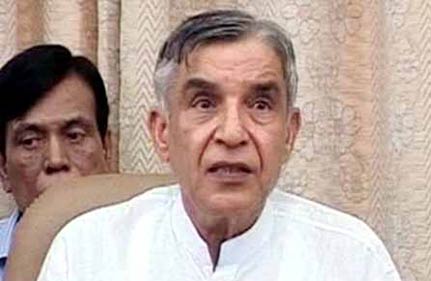 New Delhi, Nov 29: In a deft move to isolate BJP from other Opposition parties over the demand for a JPC probe into the 2G Spectrum scam, Government today played the RSS card, saying the main opposition is working under the Sangh's direction over the issue.
"They (BJP) have the direction of RSS," Parliamentary Affairs Minister Pawan Kumar Bansal told reporters here attacking the main opposition party for disrupting Parliament's functioning for the 12th consecutive day. 
Bansal said the BJP's demand for JPC probe was "politically motivated" and accused the party of trying to mislead the people. 
At the same time, he renewed the offer for extensive debate on the issue in both Houses. 
"Opposition is trying to mislead the people. Joint parliamentary Committee would not be able to achieve any result as parties are sharply divided on political lines and atmosphere is surcharged. Their demand for JPC is politically motivated," he said. 
There is a view in the government that it was only BJP, which was persisting on the JPC issue and paralysing Parliament. 
"While other opposition parties may be supporting such a probe, they are not with BJP in disrupting Parliament's functioning. Left is also seeking JPC but it is no joining BJP in disrupting the House. BSP members also do not join them when they go into the well protesting on the issue. It's only BJP, which is persisting with the issue and not agreeing to any suggestion other than JPC," a minister said.
Sources said that while BJP leaders outrightly rejected the proposals of a Supreme Court-monitored probe and a threadbare discussion on the issue, the "reaction from other parties was not so negative".
They said that Samajwadi Party's joining in the clamour with the BJP for a JPC could be due to the fact that they would not like the main opposition to take the entire credit for the campaign against the 2G Spectrum issue.
The view in the government is that except Shiv Sena, no other party in the Opposition would like to go with BJP for long on the issue of corruption. More so after the continuance of Karanataka Chief Minister B S Yeddyurappa in office despite allegations of corruption and nepotism against him.
Bansal said the Opposition's aim is not to unearth corruption and it was simply waging a "political battle" over the issue.
"Their objectives are different. They want to summon Prime Minister and examine the recorded tapes. They want to raise questions about the very formation of the government. That we will not permit. Government formation is Prime Minister's prerogative," Bansal said.
He added that the demand and the conduct of the Opposition in Parliament are "brazenly political". "They are looking for space to politicise the whole affair for undemocratic political ends", Bansal said.
The minister denied the possibility of an early end to the Winter Session in the wake of continuing deadlock between the Government and the Opposition saying "Government has not even thought of it". PTI