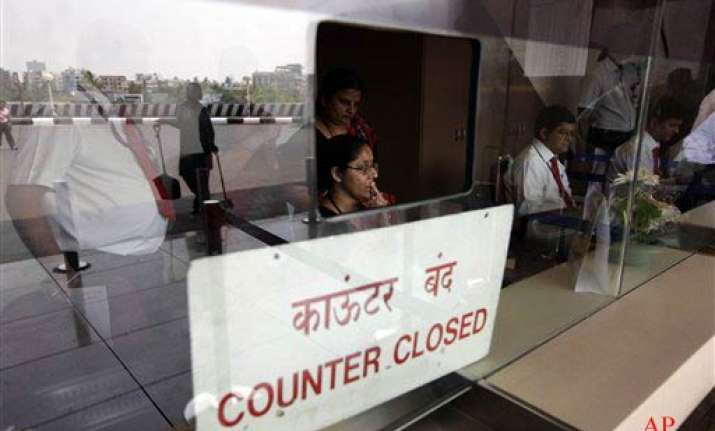 New Delhi, April 30: 23 outgoing Air India flights from Delhi were cancelled on Saturday morning, while seven incoming flights were cancelled due to the ongoing pilots' strike.

With striking Air India pilots ignoring a Delhi High Court order to get back to work and declaring that they were ready to go to jail, the government mulled options to minimise the impact of the strike which entered its fourth day today.

The government decided to bring on board some 40 pilots from Kingfisher Airlines to operate trunk routes. It also decided to follow the "no work, no pay" principle for agitating pilots, said Civil Aviation Ministry officials. "We are in the process of obtaining clearances from the aviation regulator, DGCA, to enable Kingfisher pilots to fly Air India planes," official sources said.

Sixteen Airbus aircraft of Kingfisher Airlines are grounded for maintenance and repair, and their pilots can be spared, the sources said. Air India, which had curtailed more than half of its 320 daily flights, cancelled 41 and clubbed several flights on trunk routes.

Ruling out talks with the pilots until they resume duty, the government is evaluating options like a "partial lockout" and invoking the Essential Services Maintenance Act (ESMA). "Partial lockout is also a political call. All options are available and they are being studied," the sources said.

To minimise passenger inconvenience, Air India has been asked to tie-up with private airlines like Kingfisher, Jet Airways and IndiGo to transfer passengers. The strike has led to a revenue loss of nearly Rs 27 crore so far. Earlier, the Air India management asked agitating pilots to report to work by 5 pm. "We shall keep a close watch on the situation. We will be able to tell the final tally of those who have joined work only by Saturday morning," an Air India spokesperson said. Around 660 pilots, belonging to the erstwhile Indian Airlines and associated with the Indian Commercial Pilots Association (ICPA), have been on strike since Tuesday midnight, demanding a fixed salary, removal of the AI CMD and a CBI probe into alleged mismanagement.

The management has sacked nine pilots, suspended six and de-recognised the ICPA. The pilots said they would continue the stir. "We are more than willing to go to jail. Nearly 31,000 Air India employees will also be ready to court arrest," Rishab Kapur, ICPA general secretary, told reporters in Mumbai. The Delhi High Court initiated contempt of court proceedings against the pilots for their "utter defiance" of its order to end the agitation, describing their conduct "brazen and smacking of sheer arrogance". Justice Geeta Mittal began contempt proceedings suo motu, taking cognisance of media reports. "There is complete lack of respect for court orders," she said.