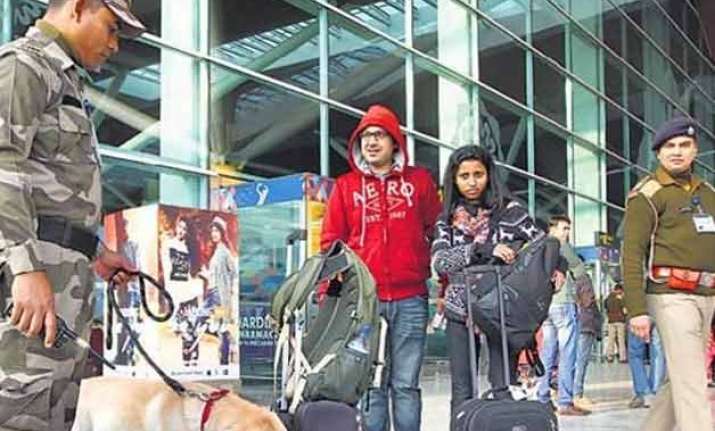 New Delhi: Civil Aviation Ministry has asked CISF, which guards country's civil airports, not to raise "operational issues" regarding the sensitive Delhi airport directly with operator DIAL, but route them through the Bureau of Civil Aviation Security (BCAS). 

BCAS, which functions under the Ministry, is mandated to lay down standards and measures in respect of security of civil flights at international and domestic airports in India. 

Officials said at a recent meeting to review some issues raised by a parliamentary panel after its visit to Indira Gandhi International Airport (IGIA), the Ministry had suggested that all issues relating to operational requirements of Central Industrial Security Force should be routed through BCAS and not taken up directly with the Delhi International Airport Limited (DIAL). 

It was directed that "no formal communication to be made by CISF directly to DIAL on operational issues", they said. 

The officials said there have been instances in the past when the force and the airport operators could not get on the same page on issues like grant of equipments to the security personnel and the new arrangement will put the onus on BCAS to decide either ways in a specified time limit. 

The issue comes in the wake of serious threat perception regarding the Delhi airport. 

During the meeting, the officials said the Ministry asked CISF to sign a MoU with airport operators all across the country as it does while being deployed in any other sector. 

While CISF officials expressed surprise that normally they do not need permission from either BCAS or the operator while deciding on the calibre or number of weapons to be deployed at the airport, the equipments are always supplied by the operator in case of airports run under the public-private partnership model, as per the current norms. 

The Ministry also suggested that CISF and DIAL should sort out the issue of "authorisation" of weapons and equipment required by the security force to secure the airport from terrorist and sabotage acts. It also directed the BCAS to finalise the authorisation in this regard quickly. 

They said while BCAS is duly informed about the security measures in place at the airports by the CISF, local issues are resolved between the two entities on ground in order to complete the process without any delay keeping in view the sensitive nature of the task. 

The DIAL, at the meeting, also said they have made arrangements for the accommodation needs of close to 2,000 CISF personnel, out of an estimated 5,000 men and women, deployed to secure the IGIA and it will be handed over to the force soon. 

The CISF secures 59 civil airports of the country at present and functions under the command of the Union Home Ministry.