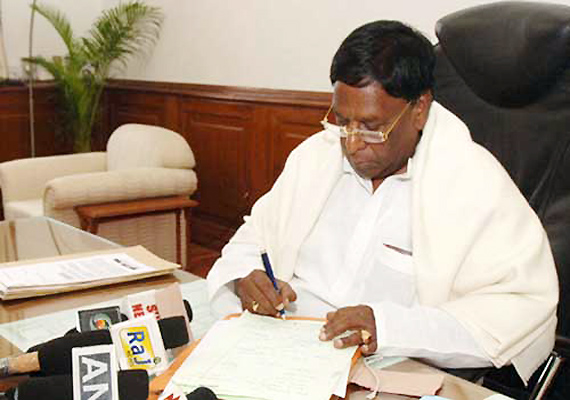 New Delhi, Feb 22: A high-powered Group of Ministers on corruption today met but did not discuss the controversial proposal for giving statutory backing to the Model Code of Conduct (MCC) which in effect would take away its enforcement from the hands of the Election Commission. 

Meeting in the midst of controversy over the alleged move to clip the EC's powers, the GoM discussed various issues including Public Procurement Bill and the report of a committee on utilisation of natural resources. 

Speaking to reporters after the meeting chaired by Finance Minister Pranab Mukherjee, Minister of State for Personnel V Narayanasamy said some controversy has erupted over the MCC and despite his ministry's denial on the issue "some confusion persisted".

"I would like to say that the terms of reference of the GoM on corruption does not include the MCC. Therefore, today in the deliberations, since it is not in the ToR, it was not discussed.

"Therefore, the question of the issue of the model code of conduct being deliberated in the GoM does not arise," he said.

When pointed that the note circulated to GoM members clearly specifies the issue of MCC, the minister said at the time of discussions, suggestions come. 

"Suggestions will be there. But it is not part of the terms of reference. Several suggestions will come," he said, adding that the issue was not discussed. 

A fresh controversy had broken out over reports that powers of the EC are being curtailed but it was dubbed as "totally mischievous" by the government which also said this may be considered as part of electoral reforms if political parties want it.

A battery of ministers in the GoM on corruption - Pranab Mukherjee, Kapil Sibal and Salman Khurshid, besides the Department of Personnel - had vehemently denied that there was any proposal to rein in EC by giving statutory backing to MCC. 

"The contents of the report are totally misconceived as there is no such move under contemplation of the government or the Group of Ministers," the DoPT has said in an official statement.

However, a DoPT note for the GoM makes a mention of the issue. It was suggested that the Legislative Department may look into the aspects where "executive instructions" of the EC were required to be given statutory shape. 

It noted that Mukherjee was of the view that MCC was one of the biggest excuses to stall the development projects, and thus agreed with the request of the Law Minister to flag the issue and its inclusion in the agenda papers. 

According to the note, Secretary of the Legislative Department has been requested to make a presentation before the GoM on the progress made in this regard.