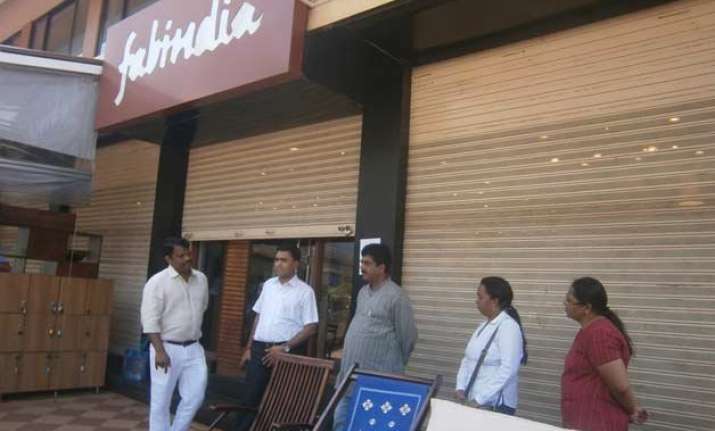 Panaji: Goa Police will today record statements of Fabindia officials at Kalangut police station in connection a case filed by Smriti Irani after she spotted a hidden camera in the trial room of the lifestyle brand.
Three directors and 2 other officials have arrived here yesterday night from Delhi and Mumbai, respectively, to join the police investigation.
Police yesterday also sent a notice to Fabindia MD William Bissell. He will also be arriving here today to record his statement.
ALSO READ: Smriti Irani spots hidden camera in trial room of Goa FabIndia store
Goa Chief Minister Laxmikant Parsikar had yesterday asked the DG to conduct a free and fair inquiry and handover the case to the Crime Branch.
"This is very unfortunate. Goa is safe for women but such cases are very painful. The culprits should not only be brought to book but also be severely punished," he said.
ALSO READ: Fabindia says cameras installed in stores for security
Karthik Kashyap, SP, North Goa, Crime Branch, has been tasked to investigate the case. 
"We will be questioning all the top officials," Kashyap said.
He also informed that four employees, working at Fabindia-owned outlet at Candolim village near Goa - who were earlier detained for questioning - were put under arrest in the evening.
All four have been booked under IPC Section 354 C(Voyeurism), 509(Intrusion into privacy), and IT Act's 66 E(Capturing, publishing images of private aria of any person without his/her consent).
All four, aged between 20 to 26 years, are identified as Paresh Bhagat, Raju Payanche, Karim Lakhani and Prashant Naik.
They will be produced before a Panjim court today. 
A police official familiar with the investigation of the case said questioning of senior functionaries was necessary to understand the CCTV protocol followed in Fabindia stores and security systems, which were in place at the fashion and fabric company, which has outlets across the country.
Police have already sealed the shop and is inspecting the showroom.