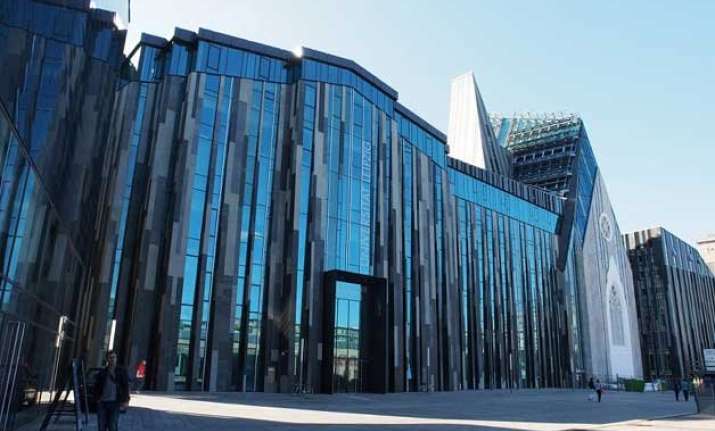 New Delhi: Rape and violence against women, already a serious problem in the country, is also taking its toll on those who want to study abroad. The issue came to limelight when an Indian student who had applied to a German university for internship was reportedly been turned down by a professor of the Leipzig University on the grounds that the university would not accept Indian male students for their female students' safety.
Screenshots of two e-mails sent by a professor of Leipzig University to an Indian internship applicant was posted on Quora and Twitter.
In response to his application, a professor wrote, "unfortunately I don't accept any Indian male students for internships. We hear a lot about the rape problem in India which I cannot support. I have many female students in my group, so I think this attitude is something I cannot support, (sic)"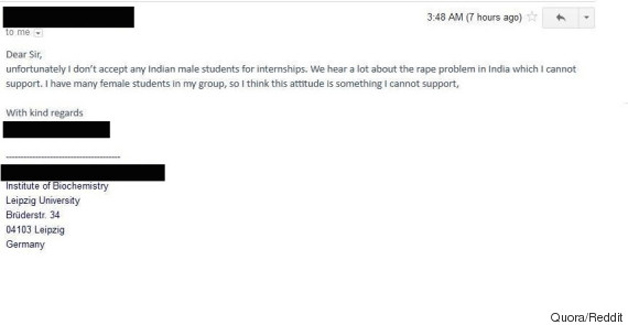 The applicant then wrote back to the professor saying that this was generalization of all Indian males, to which the professor reverted as saying, "I fully agree that this is a generalisation and may not apply to individuals. However, it is also unbelievable that the Indian society is not able to solve this problem for many years now. Reports reach Germany on a weekly basis, and especially these "multi-rape crimes" are threatening, but for me also demonstrate the attitude of a society towards women. Also female tourists are kidnapped by groups of males and then abused."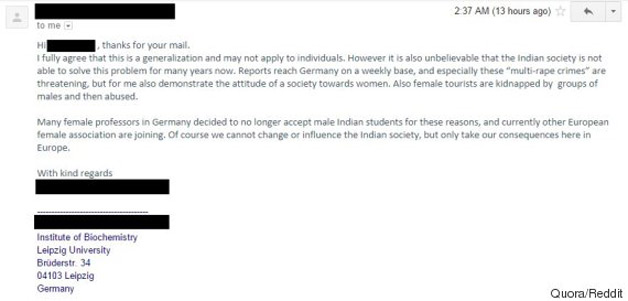 "Many female professors in Germany decided to no longer accept male Indian students for these reasons, and currently other European female associations are joining. Of course we cannot change or influence the Indian society, but only take our consequences here in Europe," he said.
The professor who wrote the e-mails has been identified in the screenshots as Annette Beck Sickinger of the Institute of Biochemistry, Leipzig University.
Though it has not yet been confirmed if the screenshots are authentic, many people on Twitter are asking the government to interfere and enquire the issue thoroughly. If the story is true at all, this could be just the start of problems the Indian males will be facing in near future.
However, a report published in The Huffington Post, suggest that the professor has apologized for her email.