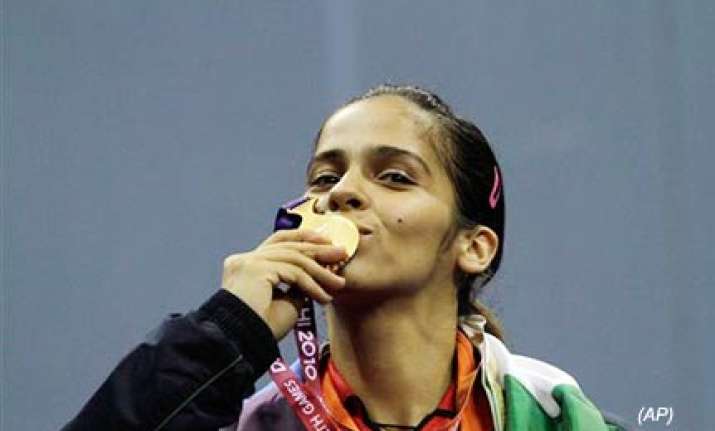 New Delhi, Oct 14: It all started with a sole bronze in 1934 in the second edition of the Commonwealth Games and now India has finally breached the 100-mark in the medals tally of the event in the latest edition to occupy the second position in the overall standings.  
India had finished fourth in the medal tables of the last two editions and this is the country's best performance ever in the event.  
It has not been an easy path and India has reached this milestone by a slow and steady rise over the years.  
The country grabbed 10 medals in 1966, 16 in 1982, 25 in 1998 and 49 in the 2006 Commonwealth Games in Melbourne.  
India have participated in 14 of the 18 editions, the first time being in London, 1934 when it was known as the British Empire Games.  
Rashid Anwar helped India open its account when the welterweight wrestler won a bronze medal in the second edition in 1934 where the country took part as a British Colony.  
India's first gold medal was bagged by 'Flying Sikh' Milkha Singh who won the 440 yards track event in the sixth edition of the Games in 1958 in Cardiff.  
India hosted the Games for the first time this year and it was only the second time the event was held in Asia after the 1998 Kuala Lumpur Games.  
New Delhi won the right to host the 2010 Games by defeating the Canadian city of Hamilton by 46 votes to 22 at the CGF General Assembly held in Montego Bay in November 2003.  
The 101 medals won by India in the sporting extravaganza here included 38 gold, 27 silver and 36 bronze.  
The multi sporting event was first held in 1930 under the title of the British Empire Games in Hamilton, Canada.  
The event was renamed as the British Empire and Commonwealth Games in 1954, the British Commonwealth Games in 1970, and got its current title in 1978.  
There are currently 71 members of the Commonwealth of Nations. PTI