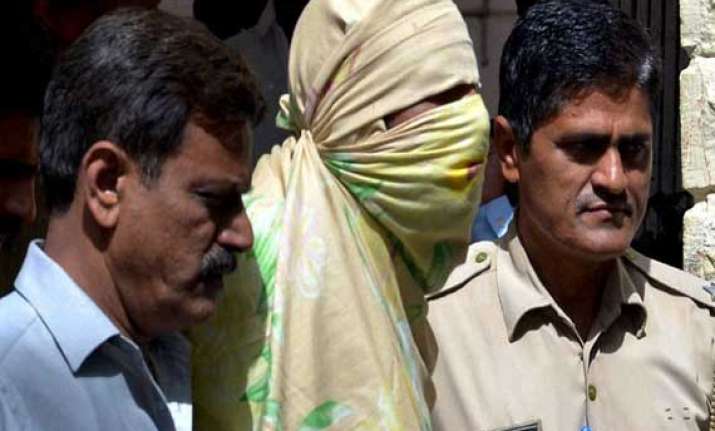 New Delhi : Four suspected Indian Mujahideen operatives, including a Pakistani national, who were planning to carry out terror attacks during the upcoming general elections, have been arrested from Rajasthan, Delhi Police said Sunday.
Police sources said rallies of several political leaders, including Bharatiya Janata Party's prime ministerial candidate Narendra Modi, were also on their hit list.
In Mumbai, Home Minister Sushilkumar Shinde termed the arrest a big success and said it will help in the arrest of more terrorists soon.
The men were identified as Waqas alias Zia-ur-Rehman of Pakistan, Waqar Azhar, Mohammad Mahroof and Saquib Ansari, Delhi Police Special Commissioner S.N. Srivastava said here.
"We have arrested four terrorists. Waqas was arrested at the Ajmer railway station while coming from Mumbai. He disclosed the hideout of his other associates," he said.
The Delhi Police Special Cell and Rajasthan Police's Anti Terrorism Squad arrested the three men named by Waqas from Jaipur and Jodhpur Saturday.
Two of them are engineering students while the third is a computer expert.
Srivastava said the terrorists were planning to carry out attacks in India during the April-May Lok Sabha elections. He also did not rule out that they had plans to target political leaders.
Waqas, a Pakistani national and an expert in making improvised explosive devices, is wanted in connection with several terror attacks including the serial blasts in Mumbai in July 2011, the blast outside Jama Masjid here, at Varanasi's Sheetla Ghat, and Pune's German Bakery blasts in 2010.
He was trained in making explosives at a Lashkar-e-Taiba (LeT) camp in Pakistan.
"A diploma holder in food technology in Pakistan, Waqas came to India in 2010 via Kathmandu. He was received by Tehsin Akhtar alias Monu, an operative commander of the Indian Mujahideen, to carry out bombings in the country," said another police officer.
Tehsin was directly in touch with the Indian Mujahideen's founder members in Pakistan.
Police said that following the arrest of Yaseen Bhatkal, one of the founder members, by the National Investigating Agency (NIA) last year, Waqas was hiding in various parts of the country.
"He went to Odisha, Bengal, Kerala and Maharashtra," said the officer.
During interrogation, Waqas told police that the purpose of his visit to Ajmer was to coordinate and oversee the preparations of the three terrorists of the Rajasthan module for carrying out a spectacular terror strike.
Police said they seized from the arrested men a huge quantity of explosives, including detonators and boxes of nails.
Meanwhile, two people were also picked up for questioning by police from Delhi's Jamia Nagar area following the four arrests.
A police officer told IANS the two men were picked up Sunday for questioning, after they were found to be in touch with one of the four arrested terrorists.
Angry residents, however, blocked the road accusing police of trying to implicate the two men.