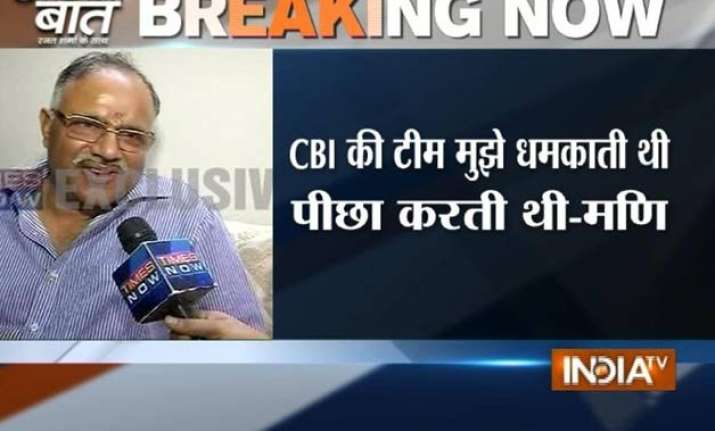 New Delhi: Close on the heels of former Home Secretary G K Pillai casting aspersions on the role of the then Home Minister P Chidambaram regarding his decision to file a second affidavit in the Ishrat Jahan case, another bureaucrat has now spoken up saying he was forced and tortured by senior government officials to sign the second affidavit.
In fresh revelations, the former senior bureaucrat R V S Mani, who served as Under Secretary (Internal Security) in the Union Home ministry, has claimed that he was hounded, harassed and forced to sign on an affidavit that claimed that there was no proof that Ishrat Jahan and the four other people, who were killed in an alleged fake encounter, were terrorists. This affidavit, Mani claimed in an interview to Times Now, was not written by him and neither was he aware of its contents.
Former bureaucrat RVS Mani is the man who signed the two affidavits in the Ishrat case. He has claimed that he was used as a rubber stamp by the government. His comments echo the claims of former Home Secretary G K Pillai who said last week that ex-Home Minister Chidambaram had changed the affidavit which clearly described Ishrat and her slain aides as LeT operatives.
Pillai had also claimed that as Home Minister during UPA government, Chidambaram had recalled the file a month after the original affidavit, which described Ishrat and her slain aides as LeT operatives, was filed in Supreme Court.
Chidambaram, meanwhile, has stood by the second affidavit in the Ishrat Jahan encounter case, insisting it was "absolutely correct" and as the minister "I accept the responsibility". The former Finance minister expressed disappointment over former Home Secretary Pillai distancing himself from the affidavit issue despite being "equally responsible".
Mani, who signed both affidavits filed in court in the case, claimed in an interview to Times Now that though he had prepared the first affidavit based on intelligence inputs, he did not prepare the second affidavit. He was forced to sign it, he claimed.
"I was asked to go and file it (affidavit), so I went and filed it. It was an order of what you say the conduct rules for us is very clear that if I am ordered something, I have to go and execute it. I cannot refuse," he said.
Mani further said in the interview that he was hounded by Satish Verma, the then head of the Special Investigating Team looking into the case, coercing him to implicate the Intelligence Bureau officials. According to Mani, he was being constantly chased by certain officials at the behest of Verma.
"Satish Verma was head of the unit of SIT and he was helped by two three cronies who were all engineering evidences," Mani said.
"I was coerced to file second affidavit. What Satish Verma (SIT Chief) did to me was unprecedented, On 21 June 2013, Satish Verma burnt me with cigarettes," Mani added.
Mani further claimed that false cases were registered against him and the harassment continued even after he went to different ministries. The hounding, he said, was so intense that he was forced to seek voluntary retirement.
"At one point of time, I thought I won't be able to continue at this stage. The way so many cases were opened, baseless cases were opened against me. The government wanted the chargesheet to be filed, which is an elaborate process. Even to withdraw the chargesheet it takes around 8 to 10 months," he said referring to the second affidavit.
Meanwhile, the Bharatiya Janata Party, on the back foot over a string of controversies in the recent days, has latched on to the revelations in the Ishrat case, saying it was a deliberate ploy by the then Congress government to implicate Narendra Modi.
"Enough suspicious circumstances have arisen from the statements of the Home Secretary, confirmed by the then under secretary that the decision was taken by Mr Chidambaram by bypassing them by changing the complete complexion (of the case)," said Union minister Ravishankar Prasad.
"There was a consistent campaign against Mr Modi that he needs to be framed, Amit Shah needs to be framed by hook or by crook. And the entire government machinery was abused. BJP demands that the government of India investigate this. We are demanding that a fair inquiry be done on the entire flip flop on the Ishrat Jahan case," he said.
"Did Congress party compromise with the national security due to its hate for Modi? A quick probe should be done," Prasad said. Asked if he wanted a judicial probe, he said "we are not closing that option."
The first affidavit filed by the government had said that Ishrat and her aides were LeT operatives and there was no need for a CBI probe into their killing, he said, adding that the second affidavit changed the stand, facilitating a CBI probe that led to the arrest of several Gujarat police officials.  
Ishrat, Javed Shaikh alias Pranesh Pillai, Amjadali Akbarali Rana and Zeeshan Johar were killed in an encounter with Gujarat Police on the outskirts of Ahmedabad on June 15, 2004. The city crime branch had then said that those killed in the encounters were LeT terrorists and had landed in Gujarat to kill Narendra Modi, the then Chief Minister of Gujarat.