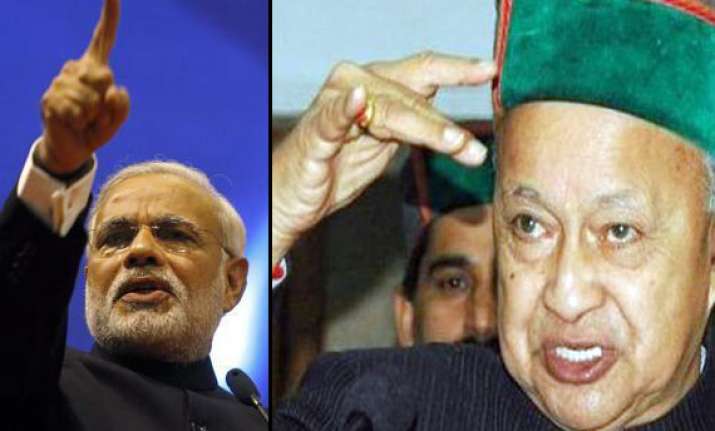 Sujanpur (HP): Invoking Prime Minister Manmohan Singh's remark that "money does not grow on trees", Narendra Modi on Sunday took a dig at Chief Minister Virbhadra Singh, saying in his case his income grew "14-fold" from the apple trees.
The BJP Prime Ministerial candidate's attack against Virbhadra Singh came when he questioned how the assets of the Himachal Chief Minister grew 14 times in a span of just three years.
"Prime Minister had a few years back said that 'Paise Ped Par Nahi Ugte'. Did he ever care to know how does the property of his own party Chief Minister Virbhadra Singh grew 14 times in a span of just three years?
The Chief Minister himself has admitted this rise in his assets in an affidavit. When questioned, he explains that his assets grew this much from the apple orchards," Modi said addressing a rally in Sujanpur.
The chief minister has been accused of involvement in alleged financial irregularities during his stint as the Union Steel Minister.
Modi also posted a tweet in which he said, "PM says money doesn't grow on trees but HP CM's assets grew 14 times in 3 years & he says it was due to apple trees! Can we trust Congress?"
Reacting to the jibe, Virbhadra Singh said Modi was welcome to HP as a guest and if he says good things it will be accepted. But, if he has to say anything bad he has to take it along with him when he leaves the state.
"Money does not grow on trees," was Prime Minister Manmohan Singh's blunt message on September 21, 2012 as he tried to justify the decisions to hike the prices of diesel and limit subsidy on cooking gas.
In his address to the nation, Singh had said the government had run up a huge subsidy bill of Rs 1.40 lakh crore on petroleum products in 2011.