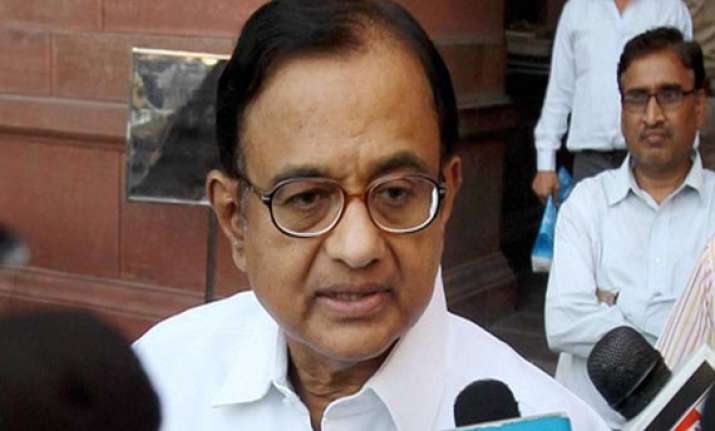 Mumbai, Jun 7 : Worried over surge in gold imports, Finance Minister P Chidambaram Thursday  said RBI has already advised banks against selling gold coins and banks on their part should dissuade customers from buying the metal.
The Finance Minister's caution comes a day after the government raised import duty on gold to 8 per cent from 6 per cent.
This was in the backdrop of average monthly gold import more than doubling to 152 tonnes in the first two months of the current fiscal, putting further pressure on the current account deficit (CAD).
On the price front, Chidambaram hoped that the forthcoming rabi crop would ease pressure on food inflation.
He also urged banks to pass on the benefits of RBI rate cut to retail and commercial borrowers to help boost growth.
"I think the RBI has advised banks they should not sell gold coins ... Banks have a role to play in dampening the enthusiasm for gold.
"I would urge all banks to advise their branches that they should not encourage their customers to invest in or buy gold," Chidambaram said while addressing the AGM of the Indian Banks' Association (IBA).
He said gold imports at 142 tonnes in April and 162 tonnes in May, as against monthly average of 70 tonnes during 2012-13, is not sustainable.
"How do we sustain? How can we finance these gold imports?" he asked, while hoping that "a day will come when we regard gold as any other metal, it just shines a little more than copper or bronze".
He further said that gold import, which is mainly responsible for rising CAD, rose sharply after the fall in prices in the international market.
"With the sharp drop in gold prices, millions were happy. I am afraid I was not among the millions. I told the (RBI) Governor that the drop in gold prices internationally is a bad news for India. Our fears came true," Chidambaram said.
Chidambaram further said that in view of the surging gold imports, both the RBI and government had no option but to take stronger measures.
In order to check gold import, the RBI had put in place regulations under which gold can only be imported on a consignment basis to meet the genuine demands of jewellery exporters. It has also increased margin money to 100 per cent.
Seeking to push investment to boost growth, he also asked banks to pass on the benefits of RBI rate cut to both retail and corporate borrowers.
"As CPI inflation and deposit rates fall, I would urge commercial banks to translate monetary policy to retail borrowers and firms through lower lending rates," he said.
He added that while RBI has lowered rates by 1.25 per cent since early 2012, banks have only lowered it by 0.30 per cent.
Observing that food inflation is "still elevated", the Finance Minister said: "We hope that it will come down further as the full Rabi crops arrive in the market".
Food inflation in April stood at 6.08 per cent, while the overall WPI inflation fell to a three-year low of 4.89 per cent. However, retail or consumer price index (CPI) inflation was at 9.39 per cent in April.
The Finance Minister also expressed confidence that India would be able to finance its CAD from foreign investments without touching it forex reserves.
Referring to the decline in fiscal deficit to 4.9 per cent of GDP in 2012-13, he said "it will be quite easy to achieve the fiscal deficit (target) of 4.8 per cent in 2013-14. We will have to be better than what we have targeted".
The Minister, however, said to bring down the deficit, government will not resort to expenditure compression.
"We need to do a lot more to revive investment. The Cabinet Committee on Investment in its four months has cleared projects worth 1.3 per cent of GDP," he said, adding steps taken would help revive investments in the coming three quarters.
On media and analysts' description of FY13 GDP data as a decadal low, Chidambaram said the lowest growth the country had posted was in 2000-01 when the economy grew at just 4.3 per cent and in 2001-02, when the figure was 4 per cent.
Asking banks to improve their asset quality and thus profitability, the Minister said of the Rs 5 lakh crore that banks need to meet the Basel III guidelines, Rs 1.75 lakh crore is equity capital with the rest being tier 2 capital, or non equity capital.
He said going by the current level, the government can infuse Rs 15,000-20,000 crore into the banks annually, but a substantial portion of the equity capital should be financed from profits.
Asking banks to reduce their non-performing assets, he asked them go after the wilful defaulters.