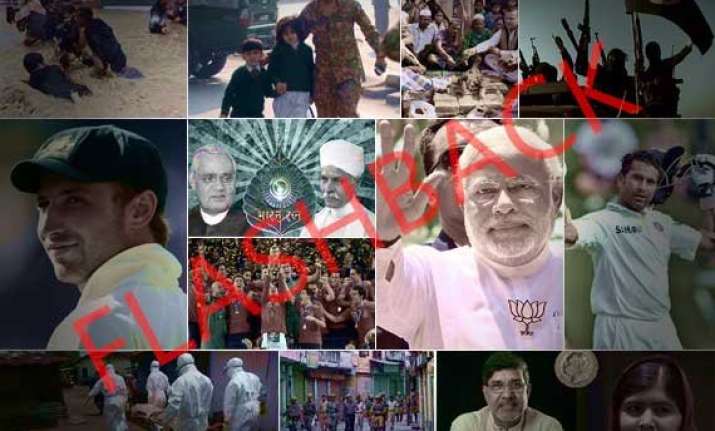 New Delhi: On one hand, it witnessed many tectonic upheavals in the life of common men, while on other it also onlooked power changing hands.
The rise of power in the center by a versatile and dynamic leader Narendra Modi sent comforting waves. His acceptance world-wide has opened avenues for the Indians across the world. BJP sweeping the Lok Sabha House with full-majority became golden in history.

The unthinkable also happened this year only when for a couple of hours entire power of the country consolidated under one roof. 21 years of Aap Ki Adalat witnessed the President, the Prime Minister, the 3 Khans and almost all the headline makers of India coming together to be a part of the gala event.  In yet another major power-shift, we saw biggies of business world like Subroto Roy and Vijay Mallya having landed in troubled waters.

On the lighter side, Bollywood also showed development in the relation of the three power houses i.e. the three Khans. We saw the three biggies, Salman, Shahrukh and Aamir soliciting at Salman's sisters' wedding together.

Talking of Sports, it lost a true cricketer Philips Hughes literally in a tragic incident.
People lost in MI 370, those killed in Iran and 'never to be forgotten' innocent souls razed in Peshawar left us with pinching memories and moist eyes. At home, those sacrificed in the Muzaffarnagar riots, brave-hearts ambushed and killed in Chhatisgarh and lately the heinous killings in Assam are still troubling our thoughts.
The end was also marked appropriately, by honoring the deservers. Malala and Satyarthi having won the Nobel Peace Prize and Pandit Ji and AB Vajpayee having earned Bharat Ratna, stand as true inspirations for another year of hope, prosperity and truthfulness.

Click the banner below:


We wish all of you a blessed and prosperous 2015!