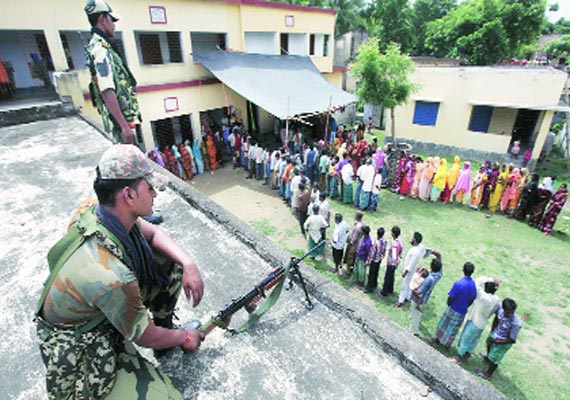 Kolkata, July 24: Political clashes claimed five more lives in West Bengal yesterday, a day after seven people died in violence in the fourth and penultimate round of the ongoing panchayat polls.
Four people perished in trouble-torn Murshidabad, while another succumbed to his injuries in Birbhum district, taking the death count to 23 since the round one of polls July 11.
Clashes rocked Murshidabad, as political parties fought fiercely with crude bombs and country-made firearms. Two Congress supporters were killed in the Ranitala police station area, a Trinamool Congress activist died in Rejinagar, and a Communist Party of India-Marxist (CPI-M) supporter breathed his last at Farakka, while many others were injured.
In Birbhum, the father of an independent candidate, who received two bullets Monday, died in the hospital, while reports of disturbances came from other parts of the district.
The principal targets were independents - mainly dissident Trinamnool activists who did not get the party tickets for the polls - and some of their houses were attacked.
In Malda district, houses of CPI-M supporters were set ablaze at Ratua.
As parts of the state was synged by political violence, the State Election Commission wrote to the central and state governments for deploying some of the central paramilitary troopers requisitioned for the polls in political hotspots.
Chief Minister Mamata Banerjee warned those "resorting to guns" that they would face "difficult times" after the elections.
Addressing a polls rally at Falakata in the northern district of Jalpaiguri, Banerjee said "The law will not spare anybody. There is no place for miscreants in West Bengal, and those provoking people to take to violence should remember that".