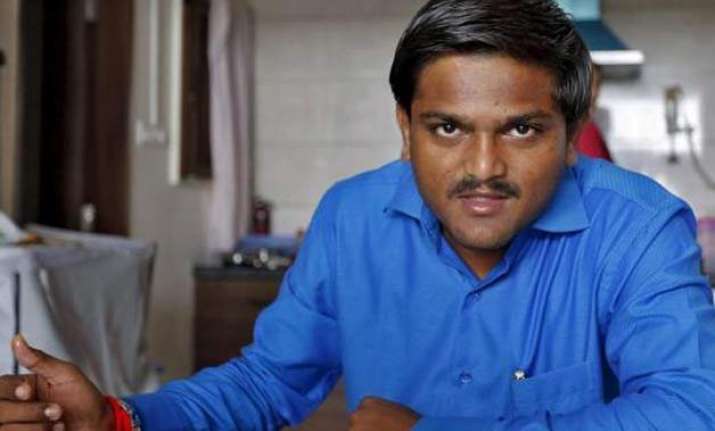 Ahmedabad: The Modhera police in Mehsana district of Gujarat today lodged an FIR against the Patel quota agitation leader Hardik Patel for organising a public meeting without permission.
On the other hand, Hardik's supporter and Modhera resident Vinu Patel filed a complaint accusing one Vinod Patel alias Swamy of slapping Hardik's aide Dinesh Bambhaniya.  
Modhera police have named Hardik along with five to six of his aides and 40 local persons for taking part in the meeting on the outskirts of the town last night.  
"We have filed an FIR under Section 188 of IPC (disobeying public servant's order)... No arrest has been made yet," said police sub-inspector D N Patel.  
Last night, when Hardik, Bambhaniya and others were heading for Chanasma from Bahucharaji, the Patel leader was felicitated by locals of Modhera.
The meeting, however, was marred by a scuffle between Bambhaniya and Vinod.
According to FIR, Vinod allegedly slapped Bambhaniya.
In his complaint, Vinu has alleged that Vinod also threatened him (Vinu) of dire consequences for supporting Hardik and his movement.
"We have taken the complaint from Vinu Patel, who claimed that Swami (Vinod) not only threatened him but also showed a gun to silence Patel leaders," said PSI D N Patel.  
Bambhaniya today handed over an application seeking action against Vinod to sector-7 police station of Gandhinagar, alleging that he was a supporter of Gujarat Home Minister Rajni Patel.
"As soon as Hardik, I and other Patel leaders entered Modhera, Swami first tried to attack Hardik. When I stopped him, he asked me to stop the agitation, warning of consequences otherwise. Swami also claimed that he is Rajni Patel's man," said the application.