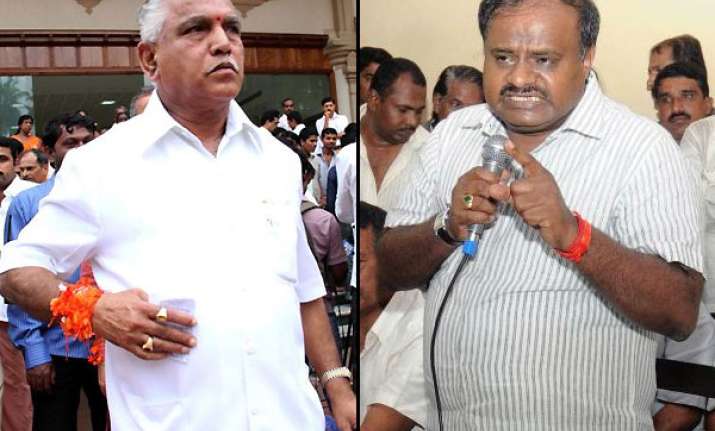 Bangalore, Jun 22 : Udupi Pejawar Mutt chief Sri Vishweshwar Tirtha, Sri Deshikendra Swami of Suttur Mutt near Mysore and the heads of several other mutts in the South have  requested Karnataka chief minister B S Yeddyurappa and  Janata Dal-S leader H D Kumaraswamy not to drag gods into their political battle.

Kumaraswamy  has accepted Yeddyurappa's challenge to take oath in front of Lord Manjunatha at Dharmasthala,  about 300 km from Bangalore, and repeat the claim that he (Yeddyurappa) had "tried to buy my silence over graft charges against him". The two are to do so on June 27.

Yeddyurappa's recourse to oath in the name of god to prove his innocence has evoked widespread ridicule and criticism from people and also from  the opposition.

Yeddyurappa is known for performing tantric rituals and is a frequent visitors to temples and mutts.

"This sort of swearing in the name of god to prove one's innocence or charges is inappropriate. Let veracity of charges and counter-charges be decided in people's court," Deshikendra Swami said in the presence of Yeddyurappa at a function in Kanakapura on Bangalore's outskirts Tuesday.

"I strongly disapprove of resorting to taking oath to settle such issues. The two leaders must desist from it," Vishweshar Tirtha Swami told reporters at Mangalore, about 60kms from Udupi.

On  Tuesday Yeddyurappa had told reporters that he would go to Dharmasthala with his family on June 26 itself for the oath-test next day.

"I will explain to the people why I decided to take oath and also challenge Kumraswamy to do after it is done," Yeddyurappa said.

Kumaraswamy  says  he stands by his statement that Yeddyurappa has been trying through an emissary to buy my silence for over five months now.

"Even if nobody comes, I will be in Dharmsthala on June 27 and repeat my statement as I know what I am talking about," he told reporters when asked about the possibility of Yeddyurappa calling off his challenge in view of mounting.