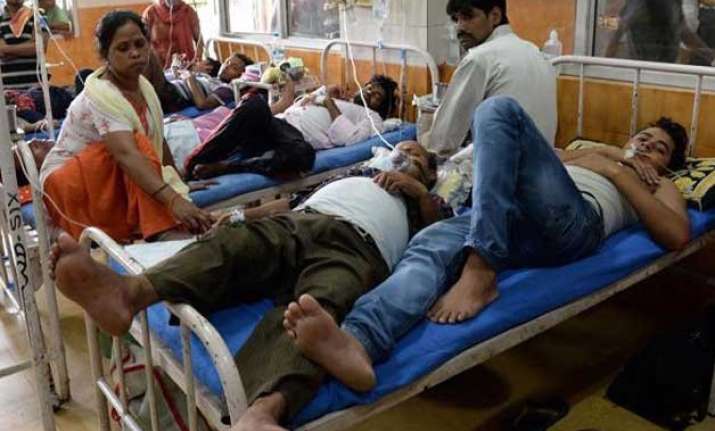 New Delhi : As Delhi continues to grapple with a raging dengue crisis, doctors in government hospitals have started providing standard treatment required to alleviate symptoms in a suspected dengue patient without waiting for ELISA test reports so as to keep a check on the rising cases.
"When a patient with typical dengue symptoms comes to the hospital, we put him or her on an intravenous drip and begin treatment required for controlling fever, vomiting and aches," A K Rai, medical superintendent of Safdarjung hospital, said.
According to doctors, management of dengue cases do not depend upon confirmation of diagnosis.
"So, we don't wait for platelet count tests or for ELISA test results to begin the treatment. In the initial stages what a dengue patient requires is fluid  management.
"All dengue patients do not need blood or platelets.
There is no need to panic if there are no bleeding manifestations such as bleeding from nose, gums, mouth, under the skin, or through vomiting, urine or stool, even if the platelet count falls up to 20,000," a doctor at Lok Nayak Jai Prakash Narayan Hospital said.
Ashutosh Biswas, Additional Professor of Medicine at AIIMS, said a person suffering from dengue experiences severe dehydration due to which blood thickens, leading to haemoconcentration, increase in the proportion of red blood cells in blood, and decreased blood pressure, which in turn leads to multi-organ failure. "Adequate hydration is the best management approach to dengue while keeping a tab on the hematocrit levels," he added.
A senior doctor at Hindu Rao said 99 per cent of dengue cases were preventable and manageable at home and do not require admission.
"What is important is controlling fever, gastric and dehydration problems. Fatality rate in dengue case is just 0.3 per cent and 99 per cent of dengue patients can be cured with proper treatment and care at home," he said.
Amidst a rising toll and nearly 6,500 dengue cases reported till now, 2015 has seen the worst outbreak of the dengue in Delhi in the last six years.
According to the civic authorities, the official death toll from dengue is 25, while hospitals have reported 37 deaths so far. With 6,486 cases of dengue recorded thus far, 2015 has exceeded 6,259 cases reported in 2010.