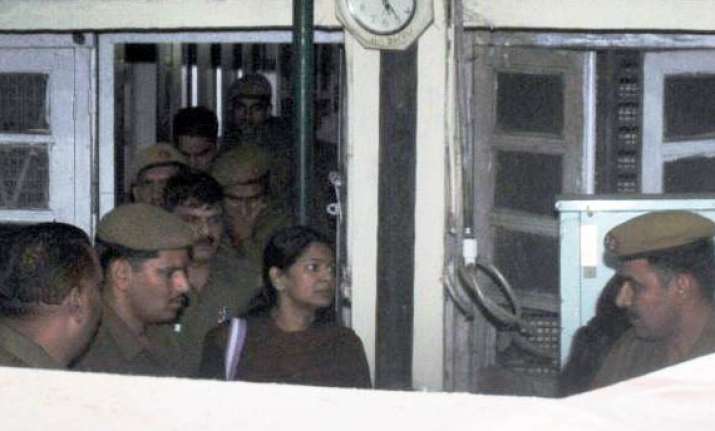 New Delhi, Nov 29: DMK MP Kanimozhi today walked free out of Tihar Jail after spending 193 days following her arrest in 2G spectrum allocation case and repeated denial of bail that had ignited a debate over bail jurisprudence in the country.

While a huge media contingent waited outside country's largest prison to capture the moments of her coming out, 43-year old Kanimozhi was whisked away in a convoy of cars from a gate which was out of the media's view. 

Besides Kanimozhi, those released from the prison today included Kalaignar TV MD Sharad Kumar, Swan Telecom promoter Shahid Usman Balwa, Bollywood filmmaker Karim Morani and Kusegaon Fruits and Vegetables Pvt Ltd directors Rajiv Aggarwal and Asif Balwa.

The daughter of former Tamil Nadu Chief Minister M Karunanidhi, who was arrested on May 20, was granted bail yesterday by the Delhi High Court following the Supreme Court's order in the case of five other accused last week.  She had to spend one night extra in prison as orders for her release from Tihar was issued by the special CBI court this evening.

Wearing a pink salwar suit, Kanimozhi drove straight to her residence along with her husband Aravindan and more than a dozen DMK MPs have reached there to receive her.  DMK parliamentary party leader T R Baalu gave her a bouquet as she got out of the car at her residence in Central Delhi after a 40-minute drive from the prison. 

"Kanimozhi was released at 7.30 PM and all the other four left in one car," Tihar Prison spokesperson Sunil Gupta said.

A group of DMK MPs was allowed to go inside the Tihar jail with bouquets and water bottles to receive Kanimozhi.  Outside the Tihar premises, confusion prevailed as there was no clear indication about which gate Kanimozhi would take to go out.

"This is the begining. She has been here for the last 193 days. This is the begining of celebrations and we are here to extend support to her," Vasanthi Stanley, Rajya Sabha MP of DMK, told reporters outside Tihar.

At her residence, a stone's throw from Parliament House, a crowd of well wishers and DMK activists gathered, burst crackers and distributed sweets to welcome her.  Kanimozhi will not go to Chennai till December three as she has to attend court hearings.

Over the last six months, courts had denied bail to the accused in 2G spectrum case, raising questions over the dictum that "bail is the rule and jail an exception" as set out by Supreme Court Justice V R Krishna Iyer decades ago. 

The accused could hope to come out of the prison only after the Surpreme Court had on November 23 freed on bail five corporate executives—Unitech Limited's MD Sanjay Chandra, Swan Telecom's Director Vinod Goenka and Reliance Anil Dhirubhai Ambani group's executives Hari Nair, Gautam Doshi and Surrendra Pipara.

After today's order of Shahid Usman Balwa's bail, only three out of 14 accused persons—former Telecom Minister A Raja, former Telecom Secretary Siddharth Behura and Raja's former Private Secretary R K Chandolia—in the 2G scam will remain in the prison.

All the accused, given bail, have been asked to surrender their passports to the trial court and not to leave the country without its permission and to attend the court everyday.

DMK leaders T R Baalu and A K S Vijayan today stood as sureties for party MP Kanimozhi in a Delhi court to secure her release on bail in the 2G case from Tihar jail.

DMK Parliamentary Party leader Baalu, who has been actively pursuing the case against 43-year-old Kanimozhi, appeared before Special CBI Judge O P Saini at 10 AM to submit a bond of Rs five lakh to give a legal guarantee that she appears in the court during the trial.

Besides Baalu, another DMK MP Vijayan also submitted a bond of equal bond amount for Kanimozhi to the court, which also issued release orders for five other 2G accused including Swan Telecom promoter Shahid Usman Balwa, who was granted bail by it today.

Several DMK MPs were there at Patiala House Courts complex to show solidarity with Kanimozhi.

"We all are very happy. DMK as a whole is happy. I also talked to our leader Karunanidhi who is really very happy with the court's order," Baalu had said while reacting to the order granting bail to Kanimozhi.